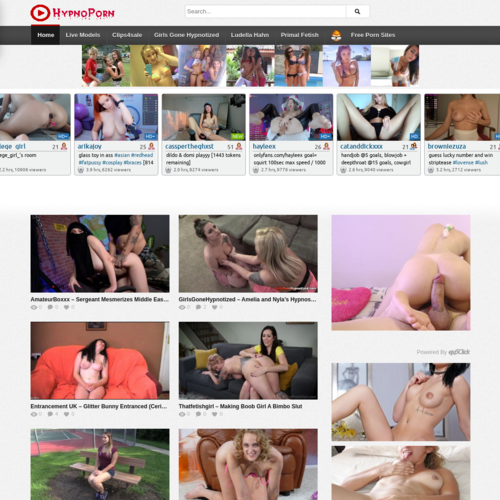 Hypno Porn
Basically, this place delves into the art of hypnotizing porn. And no, I don't mean the type that gets you hypnotized. I'm talking more about a genre of porn in which you see a hypnotized chick get fucked out of her damn mind. You won't believe how much these bitches can take in terms of mistreatment without showing it on their faces. It's really an art, to say the least, and Hypno Porn brings it to you in an easy to digest form. You're going to be thrilled to find out more about this sort of porn so let's talk some more about it. I know that you want to know more once I've told you the premise.
Here's the thing, this kind of porn can kinda be seen as forced porn since the chick is "unconscious" during the sex part of it. But at the same time, I don't think that it can be seen like that cause we all know that hypnotizing is bullshit. It's not real and everyone and their mother knows it at this point in time. Actually, not soccer moms, they keep on thinking that it's real for some fucking reason. Well, the rest of us sane people know that it's all fake so there's no reason for us to think about the legality of the situation and all that. Just sit back and enjoy the show as far as I'm concerned.
Now, other than the fact that HypnoPorn.net has this genre as the overarching theme of the site, it functions just like any other porn tube site that you might come across. It doesn't have a lot of features going for it like some of the big boy sites, but it sure as hell ticks the bare minimum that all porn tube sites should have. So, let's take a look at some of the features and you decide for yourself whether or not these are worthy enough for you to check this place out. I think that they are and I'm sure that you'll enjoy yourself to the fullest if you visit HypnoPorn.net.
HypnoPorn.net has most of the things that you need about it in the main navigation bar, as it should be. I don't think I've ever seen a site that has some important features somewhere else other than the main navigation bar of the website. I mean it just makes sense to put it there if you know what I'm saying. So, if you're looking for the crucial sections, this is where you'll find them. Though you'll see that HypnoPorn.net takes a strange approach to some of the tabs that they've got going on here. They have some which you wouldn't really expect, and we'll mention that as well.
Basically, there are several tabs which are actually external sites and that's kinda bad since it leaves less room for important things on HypnoPorn.net. I guess it doesn't really need all that much though since there aren't actually that many videos that display this genre. So this really is a place for all the hardcore fans of this one niche to actually get what they want from their porn experience. That being said, there are a few tabs such as the Primal Fetish, and Girls Gone Hypnotized which will show off some of the main themes of HypnoPorn.net. These sections are basically categories that will set the tone for all videos that are listed which you'll inevitably be browsing.