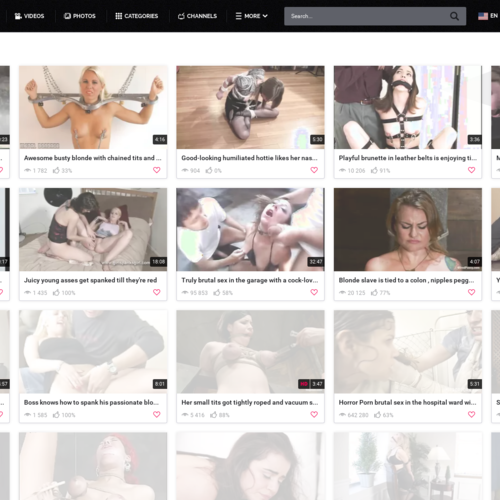 PunishBang
Personally, I think that this site, even though it is free, has a great overall design, layout and is not messy at all, compared to some other free sites I have visited before. This is a huge plus, since I prefer to visit sites that offer content that is as great as their design, and this place definitely lives up to that reputation.
However, I will mention again, that if you are not into hardcore fucking, and I do not mean the usual "hardcore" sex clips that you can see where people just have regular sex and label it as hardcore, I actually mean hard fucking core. Even though I prefer the basic crap more, I still had a lot of fun watching this hot BDSM, bizarre and just addictive clips.
The homepage is filled with loads of free videos for you to check out, and their thumbnails will be enough tot ell you just what the fuck the clips has to offer. This is why I knew from the very beginning, that punishbang.com is filled with loads of great videos for you to explore. Now, if you are not interested in technicalities or that crap, just skip on ahead to learn more about the content instead.
This site has been online for about 2 years, give or take, and it has been doing great. They have daily uploads of usually HD videos featuring some sort of hardcore banging or BDSM. However, their collection is incredibly diverse, so no matter what kind of a hardcore crap makes your dick pulsate, I am pretty sure punishbang.com will deliver.
On top, you have the usual menu that will be enough to guide you through the site, and overall there is not much else to tell you about that. You have a special section for the clips, photos, categories, channels, the community and that is about that. Those tabs should already hint what the fuck they have to offer, although you might be confused by the channels tab, right?
In case you are, and you have not seen such tabs before, it is quite simple. These sections are often dedicated to premium sites that gave a couple of their videos free. For example, on punishbang.com you have videos from known sites such as Brutal Pickups, Brutal Castings, Bound Gang Bang, Assylum (nice pun)… and so on.
As a hardcore lover, I am pretty sure most of you will recognize at least a couple of these suggested places, and you are more than welcome to explore what they have to offer. Even as somebody who does not frequently watch such pornographic scenes, I already knew about a couple of these sites; such as Kink University, where they present loads of naughty fetishes and kinks in the best light.
Believe me when I say that I have taken my sweet ass time to browse everything this place has to offer… even if I claim that I m not really a fan of such videos. However, these thumbnails got me addicted at the very beginning, so I could not resist. I watched loads of videos here… I mean, why the fuck wouldn't I when everything they have to offer is free?
The first clip I checked out featured a cute brunette who was alone in her home and got fucked by a burglar who had a very huge black cock. She was quite feisty and annoying, to be honest, so seeing her get dominated like that was quite a fucking pleasure. The only thing that video lacked was any actual intercourse, as there was only oral.