Cosplay Porn Tube review
back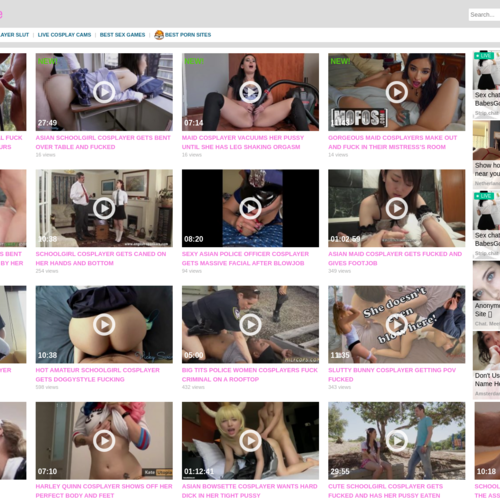 Cosplay Porn Tube
Sex tubes are a dime a dozen, and if you've browsed my Free Porn Tubes area you know they're mostly hot garbage. CosplayPornTube.com is a new entry into the world of free online smut, so we'll see how they measure up. I will say it's nice to see a tube with a specialty, and it's nice to see somebody tapping into the lucrative nerd porn market with all these simulated schoolgirls and fake princesses. It should certainly be a step up from jerking off to Netflix again.
CosplayPornTube hit the web at the very beginning of 2019. Being this young, they've had time to see all the shitty free tubes that clog up the interwebs. The interface here is pretty clean, free from excess clutter. I took a quick peek with my ad-blocker turned off and it didn't look as ugly as it could. Somebody's concerned with appearances, as they always should be on a site full of beautiful, naked women.
The header is simple, with a logo that looks a lot like Catwoman's mask, the prototypical cosplay slut. How many generations have beaten off to fantasies of smashing Batman's female nemesis? I typed her name in the search bar and got 15 scenes of babes dressed like Selina Kyle getting fingered and fucked, sucking cock, doing ass-to-mouth and comic book orgies, plus getting tied up in bondage scenes.
I usually start my reviews on the main page, but this scene of Harley Quinn and Catwoman has caught my attention and it just can't wait. Thumbnails on CosplayPornTube don't move, so I'm not sure who the two pornstars in the video are, nor am I sure what they're doing. They look like they could be grappling, but the clip title tells me they're passionately fucking each other. There's only one real way I can find out for sure.
Even with my ad-blocker on, I got a video ad for a sex video game that claims I can't play it for 5 minutes without cumming. After five seconds, I was able to skip it and jump to the comic book sex movie.
The video opens with what looks like a paysite montage intro full of professional cumshots and half a dozen broads licking cunt in a circle, but I've never heard of the site and Google turns up nothing. When the Harley Quinn and Catwoman scene starts, it's a couple of amateur hotties in a pre-recorded Chaturbate stream.
The resolution is pretty grainy, but so was the original stream. The intro that played before it looked better, though I'm not sure if it's HD. You can't adjust video quality, nor is there a download button. That's a shame, because these teen sluts are legit hot. In the span of half an hour, they finger each other's assholes and lick each other's pussies, use a bunch of vibrators and a strap-on, and have loud, body-shaking orgasms.