FitNakedGirls review
back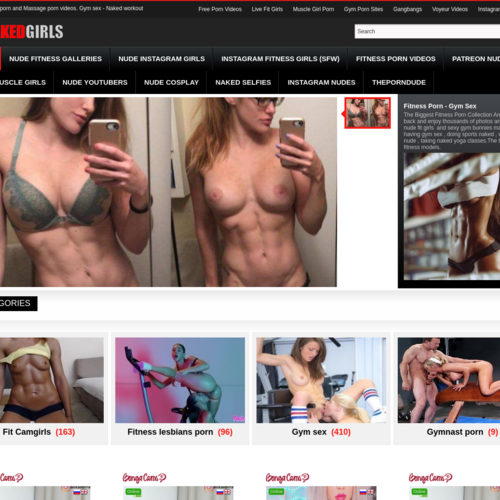 FitNakedGirls
The site features extensive photo galleries of nude fitness models, SFW fitness babes, and naked Instagram girls. There's a range to that fitness, of course. The She-Hulk broads with the bulging muscles are greatly outnumbered by the more traditionally feminine body types, though it's clear all these women take care of their bodies. I see a lot of big racks, but nary a BBW in sight.
I fell down the rabbit hole, looking at their fitness porn photo galleries. On most tube sites and even premium ones, the photo sections often seem intended more for boosting their content numbers than enticing masturbators. Just by virtue of digging into the fit naked girls niche, FitNakedGirls.com has better galleries than most free video sites. These are well-curated galleries of some absolutely beautiful, sexy fitness babes.
Did you ever bang a fit chick? I smashed a trainer with a washboard stomach and thighs that could crush your head like a grape while going down on her. The babe lifted weights at work and did kegels at home with a heavy metal ball in her snatch. It sounds like sheer crazy talk, but the bitch could jack you off with her pussy. I'm getting flashbacks browsing these Instagram fitness chicks and naked female bodybuilders, and it makes me wonder what their personal workout routines are.
How Do These Sluts Get So Fit?
As much as I appreciate the still photo galleries at FitNakedGirls, I'm more interested in the videos. Hey, I'm a modern dude, so I'm just used to shaking my dick at full-motion video of hot babes interacting with dicks. The site has an extensive collection of workout sex, naked sports and fitness porn. As of this writing, they have around 1600 videos in their collection.
Some of their top categories are on display in a row of mouthwatering thumbnails. There's a chick with abs and little titties exposed for their 163 Fit Camgirls movies, and a lesbian getting her pussy licked on a weight machine for their 410 Gym Sex flicks. It's a common sex act between fit chicks, clearly, because Abella Danger is getting her poon cleaned out on a cardio machine to represent the hundred or so films in the Fitness Lesbians Porn section of FitNakedGirls.
Abella ain't the only familiar face and succulent ass I see at Fit Naked Girls. I had to take a 7-minute break from writing this when I noticed a Mommy's Girl scene of Kendra Lust and Riley Reid enjoying the fucking hell out of themselves at a yoga class. Kendra looks fantastic in those booty shorts, and even better with them off.
Looking at this site is like cranking off to a who's who of the fittest, sexiest babes in the world. The place is crawling with top-shelf porn sluts and famous Instagram thots. If you've got some fitness chicks who routinely make the rounds in your masturbatory fantasies, hitting the stair-climbing machines and letting you titty-fuck them, you'll probably find some of your current favorite faps.