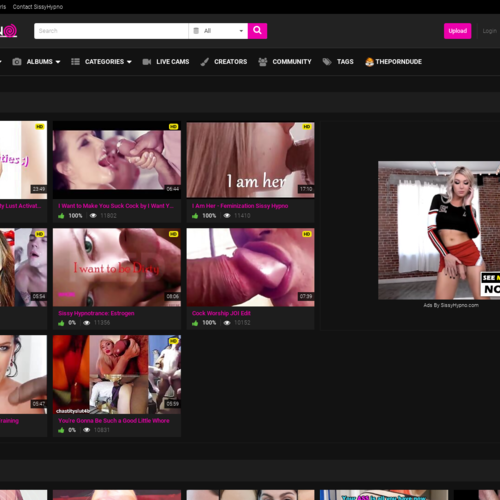 Sissy Hypno
Those are rhetorical questions, so don't get too worked up trying to come up with answers. What you do in the comfort of your own home or office cubicle is between you and the sexy female voice telling you to spend the rest of the day eating cock while dressed up like a girl. SissyHypno.com is the place to hear that voice; they're a free tube focusing on sexual hypnosis videos that turn straight dudes into girly bitches. It ain't for everybody, but you ain't everybody, are you?
I spend all day every day looking at porn, intentionally trying to find the kinkiest, freakiest, most depraved online content I can find. Still, I'm always a little surprised by Sissy Hypno content whenever I find it. It's not necessarily the perversity of it, because I've seen shit that makes SissyHypno look like Sesame Street, but the genre's quiet popularity that gets me. It's never the featured content on porn tubes, the big studios don't touch it and you never hear your horniest drunk friends talk about it, but the Reddit sub devoted to sissy-making hypnotism sessions is 140k members strong.
SissyHypno.com could be intended to cash in on that market, or it could be a pure labor of love. Based on the setup, I'm guessing the latter. They've clearly put effort into the clean, sharp design and spiral-O'd logo, and the spam situation ain't bad at all. Fetish sites sometimes hit you with a full-force assault of pop-ups, pop-unders and pre-video commercials, because they know thirsty markets will put up with it. Even if I turn my adblocker off, I'm not overwhelmed. These guys seem to care about the user experience.
This is a free tube, but the user experience ain't exactly like you'll find on your typical anal porn collection or all-around sex library. While most smut sites aim to get you off, this one ostensibly aims to turn you into a sissy. There are nearly 2,000 movies in the stash, and they all share a common goal.
I have to wonder what the success rate a site like SissyHypno has. Call me a cynical bastard, but I've always been skeptical that hypnotism could really alter peoples' behavior. My guess is most of the viewers probably go back to being masculine straight guys the instant they blow their loads into the crusty old gym sock they keep beneath the recliner. Then again, these movies could help explain the growing number of trannies in the local hooker directories.