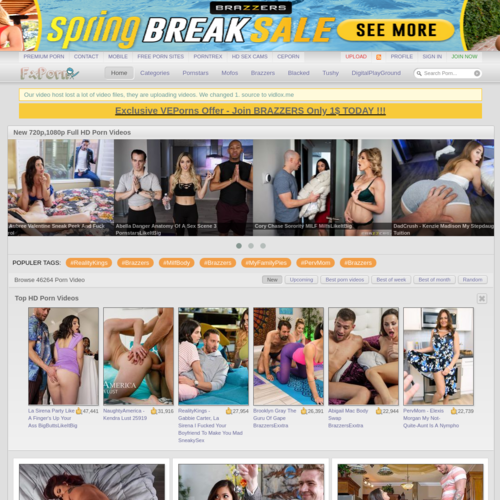 VEPorns
The site is getting more than 16 million visits a month in its current incarnation, but you may have known VEPorns by one of its previous names. It was CEPorn, then VE-Porn, followed by VEPorn. They've never had a catchy name, and their header still calls it FXPorn. Despite their gross ineptitude at naming the site, they've managed to keep it going for a while now. VEPorns currently has around 30,000 sex movies ready to stream for free.
The first thing you'll see when you pull up VEPorns is, you guessed it, a bunch of porn. The screencaps don't move when you hover over them, but they're all crisp, professional shots from big studios. Brazzers, Mofos, BangBros, and RealityKings are just a few of the recognizable names on the front page. It may be free, but you're not getting off-brand bitches jerking dicks behind a 7-11 for meth money. This is the good stuff.
The Pornstars page lists around 9,000 pornstars, a lot of the faces and racks you'll recognize. You can browse them by Featured sluts or in alphabetical order. There's no easy way to search the list by hair color, tit size, or other attributes. The picture menu is appetizing as hell and should be more than enough for most monkey-spankers.
A page of categories lists studios along with depraved acts like Threesome and Anal. There's Squirting, Public, and Hardcore, but fetish freaks will feel left out. There's no Fetish niche, nor do they fuck with any kind of bondage, feet, or leather clips.
That said, VE Porns has content from a lot of sites. You're bound to find some really kinky stuff if you use the search function. Tranny ain't a category, but the search bar can find a few chicks with dicks for you.