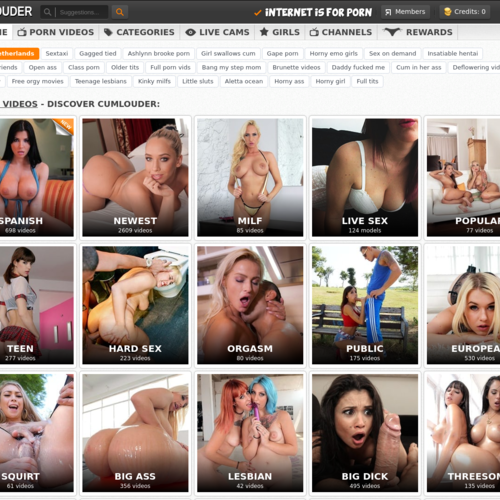 CumLouder
Cumlouder.com, a site that has finally merged these two seemingly disparate types of content. Instead of merely aggregating the hottest porn scenes from thousands of sources and allowing users to upload their own amateur content, Cum Louder has blurred the lines between free tube sites and premium paysites, flipping the separate formats on their heads (and then shoving a dick in their mouths). Cumlouder has little to no concern for your preconceived notions of what a porn tube site should be. And thank goodness for it.
Not only can you find clips from your favorite studios such as Brazzers, Reality Kings, Vixen, Naughty America, etc.), Cumlouder also offers up their own original content. And, what's more, that content is actually really fucking good—right up there with the other paysite videos available on Cumlouder. The result of marrying these two worlds? A completely unique and unparalleled porn site experience.
From the moment you land on Cumlouder's home page, you might be a little confused. The website design and layout are even similar to a lot of the member's area pages that I've seen on paysites. You've got an off-white background donning black, white, and orange text with a very professional looking banner atop it all. On the far-left side of the banner is the Cumlouder logo in a loud orange and white signature font. To the immediate right of that is the search bar. A little farther right and you find their slogan: "Porn favors the bold," with a checkmark next to it, a member's log-in button, a credits bank, and a language option.
Underneath this slender banner is your site navigation bar, which lists home, porn videos, categories, live cams, girls, channels, rewards, and store. Clicking on "videos" will bring you to something that more closely resembles the typical tube sites you are likely more familiar with, a gallery style list of thumbnails ordered by date added, regardless of studio or category. If you want to only view Cumlouder videos, there is a convenient video above the video results to do so, and above that is a list of popular recent search terms to choose from.
Clicking "channels" lets you browse videos by your favorite porn studios. Only want to see Brazzers videos? Done. Wanna check out only 21st Sextury scenes? Click, click, done. This can be a great way to get a feel for some of the popular paysites before signing up for a membership with them. Try a few out before you buy, make sure they're right for you.
Clicking the "rewards" tab will bring you to a survey, which will ask you questions like "Who is your favorite Cumlouder girl?" allowing you to choose between four options. After answering five or six similar questions about the site, you will be brought to a page in which you can collect your reward. The reward is, as you may have guessed, a list of free trial memberships to popular premium pay and cam sites. Kind of a bust, if you ask me. More of a way for them to gauge the popularity of their content than it is actually a reward for you (most of these sites have free trials anyway).