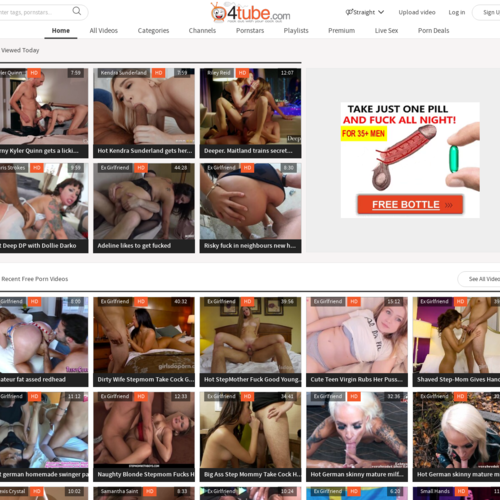 4Tube
Next up is the category tab, and boy oh boy, are there many categories to look through. We won't go over all of them, but the good news is that the videos that are in these categories usually represent the category in which they are in pretty well. There are so many categories to choose from, even comedy for crying out loud. Granted, this category only has, like, 9 videos in it so you can probably bust through this collection in a day or so. Other categories won't be such a piece of cake though as they number videos up towards the tens of thousands.
Believe it or not, you can actually sort categories too. Mostly according to their name, the number of videos, and the date in which they were added. Perhaps you're feeling frisky for some of the newest themes on 4tube.com. Well, in that case, you'll love to use the added features for filtering through these genres as you find the perfect one for yourself. Then watch yourself get glued to it and watch it for hours on end as your dick starts feeling numb from the amount of jerking off you're committing to.
The Channels and Pornstars tabs boil down to the same thing. The only difference is whether you want to search through channels with various content and pornstars, or are you more into a singular pornstar and want to see more work from her. Either way, 4tube.com has got you covered. You can filter these bad boys in whichever way you like, though there are definitely more options on the Pornstars page. With that being said, there are a few bugs with some of the filters not being able to collapse from their initial position, which is a minor inconvenience but a noticeable one.