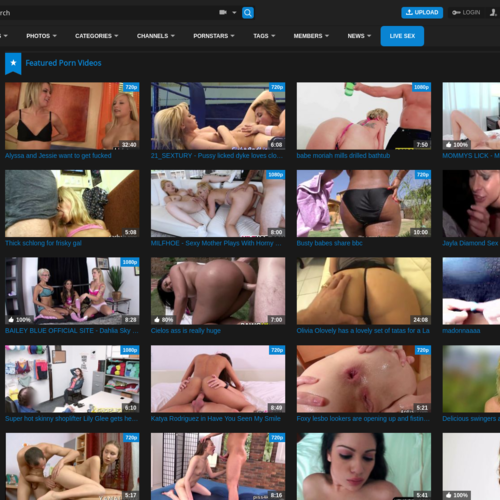 TNAFlix
Tnaflix.com stands for "tits and ass," so you probably see what I'm getting at. This site doesn't take a side in the debate. They play both sides like that pastel goth chick you fucked in college. Tnaflix.com has been bringing tit and ass dudes to one place since way back in 2007. And this isn't some rinky-dink site with barely a million views. This site manages to capture two huge demographics of porn users and draws in an astounding 80 million views every month. Now that's what I'm fucking talking about.
If you're like me and are getting tired of cluttered and crazy site designs, then Tnaflix will be a welcome breath of fresh air. There aren't any annoying, flashy ads popping up every five seconds or anything like that. And, listen to this, they have a button down on the left side of the site that lets you switch between a day or night theme. But you don't have to do shit yourself because it automatically tracks the time on your device and changes colors on its own. That's some next-level shit right there. And the "day" theme isn't even that bright. Lots of grayish-blues going on.
There's a header up top for "Home, Videos, Photos, Categories, Channels, Pornstars, Members, News, and an ad for Live Sex at the end." For categories, you can go ahead and click on the tab to get a page with a full list of kinky options with full HD previews, the number of videos, and an option to subscribe so that you get notifications every time something is added to that page. If you don't feel like using that awesome page, then you can also use a sidebar on the left that sticks with you wherever you go on the site. It has an A-Z list of all the categories along with a video counter for easier browsing.