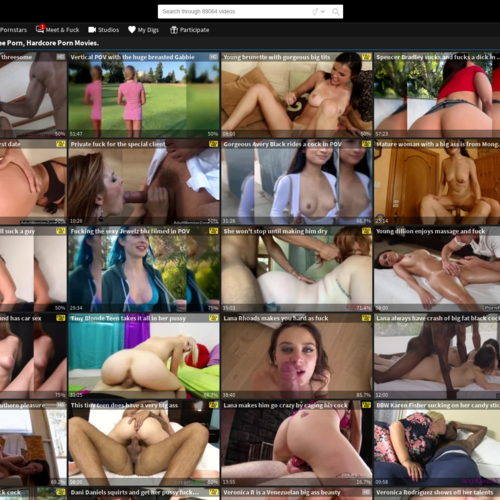 PornDig
PornDig.com was registered back in 2005 and entered its current form around 2011. That's a ripe old age for a free porn tube. These guys have been around since the MySpace days, and they're currently crushing that dead old giant with a good 12 million visits a month. Tom would still be around if he'd been giving out blowjob clips instead of inviting himself to your friend's list.
You've seen a free porn tube before, right? If not, welcome to the Internet! PornDig's got the same basic setup as the rest of the tubes. The majority of the front page is dominated by thumbnails from porno movies. The default view features the very newest material on the site first. The search bar says they've got more than 75k videos.
What's new here? Glad you asked. The very newest one is an 11-minute taboo clip called Teens Fucking Got Accompanied By Mom. Teenagers are the stars in a few of the recent offerings, and incest is on the menu in multiple places as well.
The action is varied, even without leaving the front page of the site. There are gangbangs, pantyhose sex, and deep-throating. I see MILFs, blondes, Latinas and Ebony beauties. There's even some kinky bondage porn out front, with Kenzie Taylor getting tied up, gagged, and fucked.