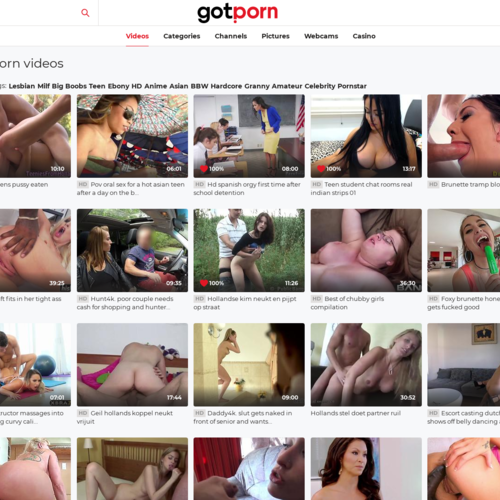 GotPorn
Got Porn's background is white, changing the entire feel of the experience a little bit.
At the top of the page, you'll find a really nicely designed black and red logo that is centered (even further adding to the minimalist aesthetic of the site overall … this site's designers understand the power of negative space). To the far-left of the logo is a convenient little toggler, allowing you to easily switch between straight, gay, or shemale content without having to go through the trouble of searching for it in a categories section, or visiting an entirely different version of the site. As a straight man, I also definitely appreciate how the default is straight, some sites make you opt-out of gay and shemale content.
To the right of the toggler is an understated search bar that doesn't get in the way at all of the porn viewing experience (in fact, it's so unassuming, I only discovered it by mistake when I accidentally clicked on the white space next to the toggler). Then, to the right of the centered logo, you have a clear-cut way to either upload content or log in as a member (at no cost, mind you).
Also centered right below the logo, you'll find the site's navigation bar, making Got Porn even easier to traverse. Choose between "Videos," "Models," "Categories," "Channels," "Pictures," "Webcams" (Live Jasmine), and "Casino" (not really porn related, it just takes you to an online casino called Bitstarz … still pretty cool and unique for a tube site though). Below all of that, you'll also find a few trending tags to choose from: #Lesbian, #Milf, #Bigboobs, #Teen (when would this category ever not be trending..?), #Asian, #HD, #etc. … you get the picture.