Vintage Erotica Forums review
back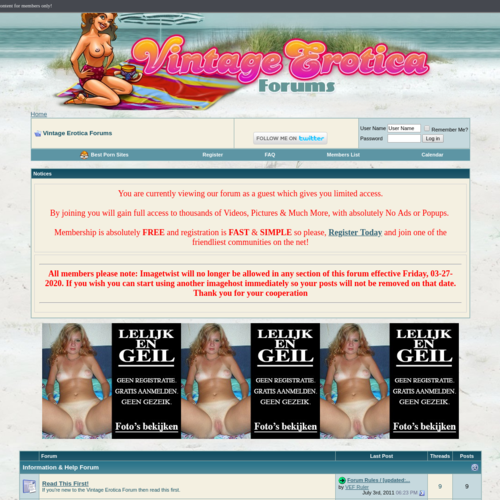 Vintage Erotica Forums
How You Join This Forum
Even with these problems, my experience using VEF was pretty good – and I'm not super into vintage porn myself. So, I would think that anyone who is would love this site. But if you check it out for yourself, you're only going to see a fraction of Vintage Erotica Forum's full glory. To get past the preview version, you are going to have to set up an account which, fortunately, is completely free and easy. All you'll need to do is set up a username and password, and enter your email address. Once you've been verified, you are good to go.
And in case you hadn't figured it out, the people on this forum are very friendly and quite active, so you'll feel very welcome once you log in for the first time and every time thereafter.
How Do I Rate This Forum?
Obviously, I recommend this site to anyone who has a fascination with vintage porn. But when it comes to people who aren't into that niche, they may find the stuff on this site to be beautiful…or super boring. And I understand why. After all, in the modern-day, we're all used to getting our smut in ultra-high 4K definition. Some guys and gals are going to be put off by old, grainy photos or black and white footage. But I'd still say that you should give it a shot; you might really enjoy what you see. And if you want to start, then go to this forum first.
So, despite the adverts and lack of mobile optimization, this site doesn't have too many drawbacks. On top of that, the sheer number of smut selections to choose from, I give this website four out of five hands. Check it out today and enjoy the nostalgia…or new experience.