FreeOnes Board review
back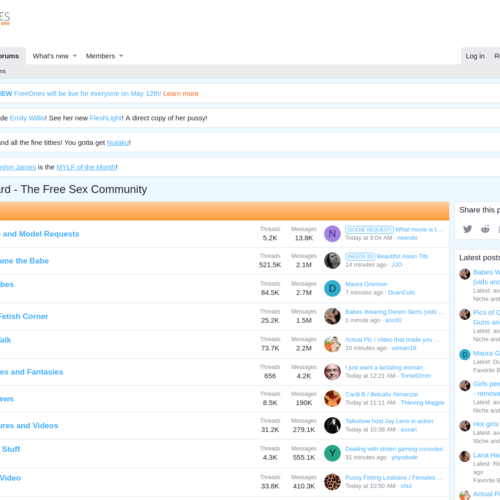 FreeOnes Board
Now, right underneath it you'll typically find the "favorite babes" forum, and here you can just go ahead and talk about all of your favorite girls, talk about their faces, tits, hips or whatever, I don't know, it doesn't matter, just say whatever you want to, but try to keep it somewhat vanilla. No need to go all nuclear with your perverted tastes, keep some of those to yourself. Now, right underneath it, you'll find the "niche and fetish corner," and this is where you'll take your obscure non-vanilla posts, which is why I said that you should keep the "favorite babes" section somewhat "pure." Now, there are a few other forums here, but they're not as active. As you could have guessed it, no titties, pussies and big asses here, just pure boring off-topic stuff.
Now, these are probably the most interesting sections of the website, but that's not all there is to it. No sir! Not on FreeOnes' forum! So, let's take a brief look at the unpopular kids (tabs) on the page, and see what they have to offer. They are eager to make their mark on the world! A tab that seems to be quite interesting is the "what's new" tab. Here, you can find actresses, adult models, centerfolds, musicians, sportswomen, TV hosts and even porn stars which is the bread and butter of FreeOnes.com. So yeah, the usual stuff.
Furthermore, there's also a section for free videos, and this one has a bunch of hot celeb vids in it, so I suggest that you check this one out. Furthermore, there's also a "sex cams" section where you may find a bunch of sexy girls, and clicking on this header tab doesn't take you to another website as it does on most pages like this. You know like, if you click on the "live sex cams" or whatever tab, you get taken to Chaturbate or some other big page like that. Last but not least, the search bar is somewhat useful because you can just look at the girl you want to see, and hopefully, you can dig up some dirt related to the girl. However, if you want to do that you could have just used Google. Just saying.
So, FreeOnes.com's forum section is still a pretty decent page after all these years. Nudes, softcore porn, leaked full-on hardcore sex tapes and all that stuff is available here, which is why this page is so great. There are plenty of posts, and they're pretty in-depth due to the fact that they are visited by the fans who know their stuff about stuff. What better visitors to have on a porn database site than horny nerds. Even after so long, FreeOnes.com kicks ass.