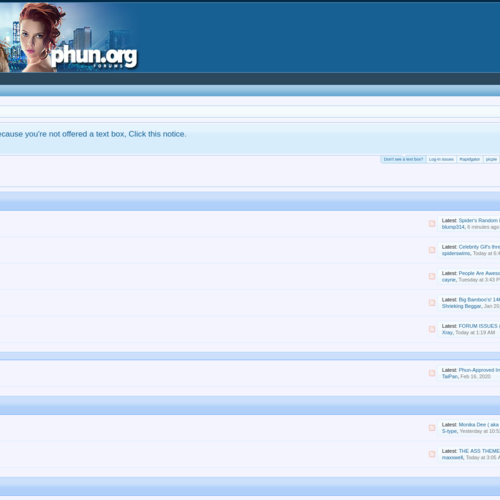 Phun Forum
Things to love about Phun.org
Over 8 million posts; this can only mean one thing, the site is overflowing with content with the majority of the posts X-rated. This is expected considering there are thousands of members online at any given point.
Multiple regular updates; Phun.org has thousands of active users who are always contributing content in the forums, and the abundance of new posts is a testament that you can never have a boring day in any of the forums.
Lots of adult content; Phun.org is mainly an adult platform, and the majority of the forums cover porn spreading from soft-core to the absolutely hardcore and anything in between. No wonder the site is one of the largest porn forums on the internet.
Possible concerns
Mainly celebrity-focused; there is still a considerable amount of amateur porn, but the bulk of the XXX materials here focus on celebrity kind of stuff. What I think should be done; There is nothing much the site can do to improve the experience if I'm to be honest with you. However, I'd like to see the same enthusiasm levels for celeb content being transferred to amateur content. That'd be fucking awesome.
Wrapping it up
When it's all said and done, Phun.org is a nice platform to find something to bust a nut to especially if X-rated celebrity content gives you a hard-on. It has plenty of forums and highly active users, which means you are guaranteed fresh posts each time you visit the site. The design is also simple and straightforward and other than a perceived bias towards celeb content, there is not a bad thing to say about the site. Worth your visit.