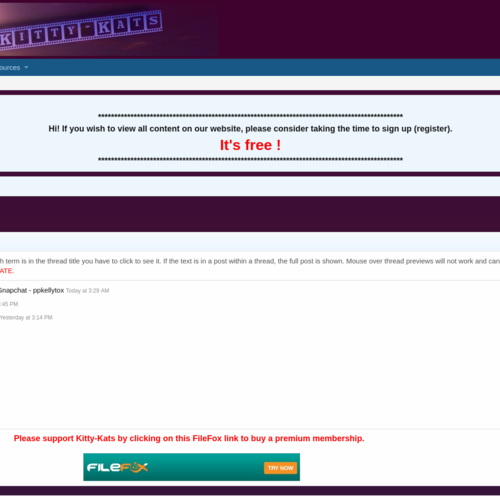 KittyKats
Become a member of giant adult community
When you get sick of free porn tubes and tired of paying for premium sites, you better discover what a porn forum is. It's a free online platform based on active community. People from all around the world make posts and upload porn content. Everyone can watch and download everything he wants. Also, you can feel like a participant of something great. Have conversations and take part in discussions about pornography. Don't be shy about your sexual preferences. All the people on the forum are the same as you. Fresh updates and endless list of porn content will draw your attention for sure. I want to talk about one of the best porn forums ever. It is named KittyKats. It's a funny name, isn't it? When I entered it for the first time, I noticed that its design looks more modern than of similar forums. Of course, it's not very beautiful and perfect, but it's okay. First of all, the owners of the forum ask a guest to sign up. The registration is absolutely free, of course. The forum is free but if you want to support the developers, you can spend some money on FileFox. This is a file-hosting site where all videos from the forum are placed. You can't stream videos on KittyKats, you just get links. This is how all porn forums work.
Let's see forum statistics. OMG! More than 200,000 threads, over 3 million messages, and almost 90,000 members! Those are unbelievable numbers. I want to become one of the members immediately. You can share this forum on Facebook, Twitter, Reddit, Pinterest, Gmail, and other social networks. Invite your friends and they will appreciate that. A lot of people don't even know that such porn forum like KittyKats exists. You can make them happy right now.
Rules and Site News is the section where all serious information is presented. The rules are similar like on other forums. If you want to post something, you should do it in the right way. Moderators of the forum are doing a great job. They check if all threads are made in the right way and stay in the right categories. At the right hand, you can see the latest posts of the whole forum.
Witch forums and subforums can we find here? The Girls of Kitty-Kats is the section where you can find Top Models, Internet Models, Webcam Girls, and some model discussions and requests. Thousands of hot pictures and videos are waiting for you in those threads. The only thing I don't like, most of the discussion forums are just requests for specific models. It is a useful function, but I want to have different conversations with real porn fans but not just "Who is that hot girl?!"
Hot Outfits is the section of the KittyKats where you can find gorgeous girls in extravagant lingerie, bikini, leather and latex costumes, and pantyhose. If you love hotties in seductive outfits, this section will bring you a lot of emotions. The section named Titty-Kats contains everything that is about boobs. Models with big boobs expose their treasures in lesbian and hardcore porn actions. You will find an incredible number of solo nude pictures of big-breasted chicks only. All of them have hypnotizing tits. Mature females and BBWs can be found in this section, too. Another interesting section is named Hardcore. It contains a lot of content of girls with boys, girls with girls, etc. You can find full hardcore movies with the most dirty-minded whores from the globe. Bitches like to suck thick dicks and get fucked in a rude way. They get all their slits drilled and filled with sperm. Censored and uncensored Asian porn videos can be found there, too. If you like retro sex videos, Vintage porn collection will entertain you a lot. One of my favorite niches is Amateur. This category is presented in a separate section on KittyKats. I'm happy to see an endless list of amateur sex movies, nude pictures, and unstoppable discussions. Mesmerizing webcam girls are presented in this section, too.
If you are looking for something inspiring, better check Fine Art Girls. High-quality pictures and videos from many famous sites are collected there. Download mega archives of exciting erotic photos and scenes. Here you can make sure that porn is art. What about some kinky content for those, who aren't interested in straight porn? Of course, this adult forum has Shemale section and a lot of threads dedicated to various fetishes. Choose subforum of your dreams! Pregnant ladies demonstrate seductive shapes in photos and videos. Hairy girls don't know what a razor is. Gym bunnies demonstrate strong and flexible bodies with no shame. Some crazy body modifications can be found, too. KittyKats is the place, where anyone can satisfy his crazy sexual wishes.