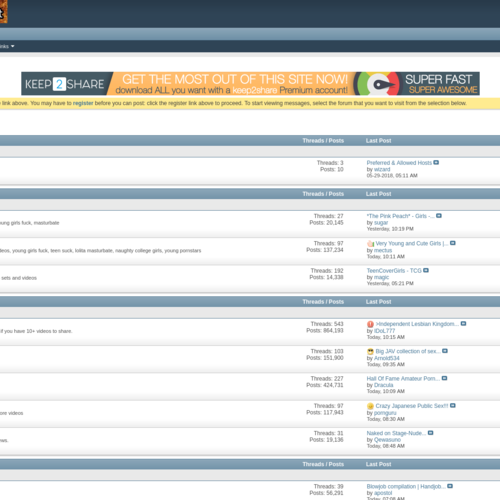 Hot-Board
PornHeli's Favorite Features
My favorite feature about Hot-Board.net is the fact that you can browse this shit without having to make an account. I guess that's a fairly low bar to be impressed by but you would be surprised. Most places are walled off like fucking North and South Korea. No access. Do not pass go. But here you can download content, view threads, and all the good shit. I like to lurk anyway, so I'm not too bummed about the closed-off registrations. As long as I can download videos of sexy college babes getting fucked I'm a happy camper. I also enjoyed all of the separate boards here and how active they were. Usually, with this many boards, most of them end up being graveyards. Even the more out there fetish threads had people that had posted recently. This is definitely a good place to get your kink on if you're into that kind of shit.
PornHeli's Suggestions
Suggestions, suggestions, suggestions. Hm. Well, yeah. I've got a big one. Open up registration! Please? That would be fucking great. Other than that obvious one, a change of theme might be welcome. Or add a dark mode. I mentioned it above, but that shit really does get to me. Get with the times people! But all of these are small critiques. The site really does host a great forum.
PornHeli's Final Thoughts
Overall, I like this forum. It's got an incredibly active community, a huge archive with millions of posts to explore, free exploration for unregistered users, a decent design, and all the necessary site features for getting around. You won't get lost here in the thick of it like you will on some forums. It's all straightforward and easy to use. Plus, they have boards for crazy fetish content if you're a freak like me. So, don't hesitate. Head over to Hot-Board.net and get browsing. Trust me, you'll bust the best of nuts looking at the content they've got hidden here.