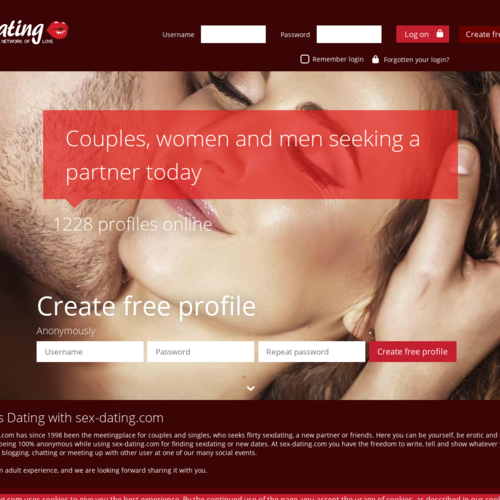 SexDating
Chat, meet, and fuck people from dating site
SexDating is a global network of love. That is what you can read on their main page. Okay, let's see what we have on this dating site for adults. First of all, we understand that coupes, women, and men can find their love on this online source. But I'm not looking for love. I need crazy hardcore sex for free! I'm just kidding. SexDating is one of the most popular and successful sited for hooking-up. When I enter it, always more than a thousand of profiles are online. You can create your own profile for free. The main thing is that everything is anonymously. Don't worry your wife or girlfriend will not catch you looking for some local whores. Just don't forget to clean your browser history! A fresh pussy doesn't deserve ruining of your relationship.
Sex-dating.com was created in 1998 and still helps people find sex partners and lovers. The creators of this site want to make all lonely people happy. If you are interested in flirty sex dating, this is the right place to find it. But don't forget, a random girl for one night can become your wife later. Who knows? It's not easy to find a date in the streets or on social networks like Facebook. This site makes this process much easier and more confidential. You don't need to indicate your real name and it's a very good option. Here, on SexDating, you can be yourself. Stop hiding your sexual preferences, dirty ideas, and crazy wishes. Tell and show whatever you want when chatting and blogging. You will be surprised to find out that a lot of people are interested in your secret thoughts and share your opinions. Nobody talks about sex, cheating, and kinky thinks in real society. But you can enjoy it in a virtual one. Online social network helps people around the world to discover absolutely new types of sexual relations and entertainment.
The creators and owners of SexDating hope that everyone will find appropriate partners and lovers using their online system. The support team of the site is always ready to assist you and answer any questions. Your suggestions can be very interesting and helpful for the developers of the site. They care a lot about safety and anonymity of all users. I like when creators of a big online project take care of their users. I didn't text them anything but maybe you will have some questions. SexDating is very serious when it comes to anonymity of adult dating on the internet. The team of developers offers all users the best experience in terms of discretion. When people are seeking a sex partner or just a friend, they shouldn't worry about anything. You can express your individuality without any limits.
You can find really naughty profiles on SexDating. Single women, men, and couples can get acquainted and meet up in real life or have amazing online sex experience. The moderators of the site have some censorship but it is very limited. They offer wide possibilities to write and show in your profile. I can tell you that a dick pic is very normal for it. I don't know what kind of picture can be blocked. Probably, it's not something hot but weird and disgusting. I want to speak about one more interesting thing about this dating site. You can have experience of communication and dating without sexual context. Boys and girls who want to become future husbands and wives can contact without sending nudes and texting dirties. I don't know who those virgin nerds and innocent girls are, but such a feature doesn't exist on most of the adult dating sites.
You can find over 100.000 photo albums on SexDating. It's a lot. All of them are uploaded by users. Some of them are nice and demonstrate the real person who stands behind the profile. Others are just about dirty sexual fantasies. Just imagine how many vaginas and dicks you can find in this bunch of personal pictures! It is a great opportunity to find some sexual inspiration. Erotic videos are placed in profiles, too. It is so exciting to watch amateur sex clips and erotic homemade tapes. It is better than an amateur category on a porn tube. 16.000 videos are waiting for your attention.
Of course, you can chat with all users on this special social network. Girls will be happy to have a dirty conversation with you. Tell about your secret sexual wishes and don't be afraid of bad reaction. Each user is ready for dirty communication. Many public chat rooms can be filtered if you need to find an appropriate one. Private chats allow you to turn on webcam and have virtual sex with your companion.
Now you know where to find new sex friends, express yourself, and have a lot of fun.