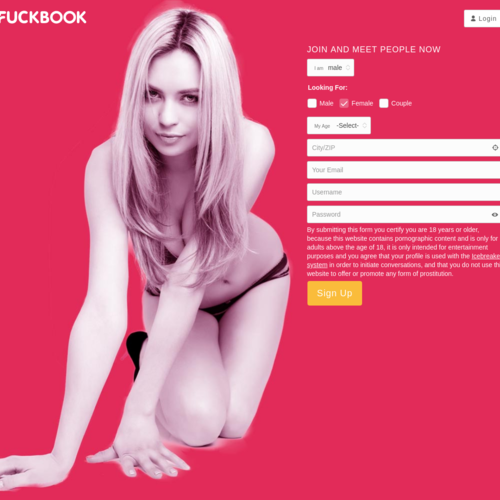 FuckBook
Find sex-hungry girls from your neighborhood
There are so many different websites for adult dating that it's difficult to choose one. Some of them are almost the same; others have special features or limitations. I want to talk about Fuckbook.com. When you enter it for the first time you can see just the registration page. They ask your gender (male, female, couple), age (you should be 18 years old or older), email, nickname, and password. Nothing difficult, isn't it? The registration is free. They don't ask for your card information. FuckBook isn't absolutely free but they don't charge you at the beginning.
I like the name of the site. It sounds like Facebook and it's funny. This a big social network, too. The difference is that all people in FuckBook are ready for dirty talking, hooking-up, and having sex with new partners. It's not easy to find a slutty chick and manage to date her at first glance on Facebook. I decided to describe FuckBook because it is one of the best sex dating sites on the web.
I remember my first dating app that I used to find hookups many years ago. It was OkCupid. It was really bad because the only thing related to dating was an option in a profile named "ready to hook-up". I was so disappointed because all local girls that I have found there were not ready to date me. That occasion made me not believe any technologies that help you to find a sex partner. But I was wrong. There is a good example of well-done app for real sex dating. It is called Tinder. I've managed to meet and fuck many chicks using it. Okay, it was my story about online dating apps and websites. Let's return to FuckBook.
I hope you understand that a sex dating site is not a magic wand. It gives you opportunities for finding and chatting with sexy girls who are hungry for meat. But you will not have any dates if you are an ugly and stupid guy. If you want to hook-up with a cutie, it's still going to take effort. You should upload some good pictures of you that will represent you like a handsome and successful macho. You should be good at keeping a conversation with a woman. Anyway, the online social network full of sex-hungry sluts gives you a lot of chances to find a real pussy for drilling. Be careful, because there are a lot of fake accounts, scammers, and spambots that are trying to cheat and get your money. Don't become happy if someone texts you because it can be not a real girl from your neighborhood. And, of course, don't click suspicious links and don't give your card data. The only good thing is that there are not so many fake accounts and other annoying things on FuckBook. Similar sites have much more, believe me. The team of developers does a great job getting rid of all fakes.
Okay, let's see what we get when finishing registration. They ask you to upload a few pictures and tell about your tastes and preferences. Specify what kind of girls turn you on and it's enough. The site looks familiar for those who already have accounts on a social network. Here you can see news feed that can be switched from global news to posts form your friends only. Hopefully, you will see teasing pictures of local beauties and coquettes there. Of course, you can comment on and like them as in other social networks. You can make your own post. Express yourself with no doubts. Post some intriguing pictures of you and leave a text or a long blog. If you are active on FuckBook, you increase your chances to draw the attention of a hot lady. If a lot of girls will see your post in feed section, maybe some of them will like and text you. This is a good idea for the beginning.
Let's see what we have in menu bar. "Overview" means feed news. Search users and view your matches are useful instruments to grow your list of potential lovers. There is Fuckbook's live cam page but it asks a separate membership. You can have virtual sex without meeting girls in real life. Sometimes, it's a good way to relax and have some fun. If you click on "Find Your Love" it brings you to a partner website. All profile settings, messages, friends list, and other usual things are hidden in menu bar as well.
It looks like you get everything that is needed for sex dating. FuckBook is a well-done social network for adults with all necessary instruments and features. Everything depends on you. If you will be active enough and lucky, you will enjoy some hookups for sure. Be careful with spambots. I wish you to find as many pussies for hot nights as possible! You will have a lot of fun on this sex dating site. Be active and the reaction of hotties from your city will satisfy you.