AdultFriendFinder review
back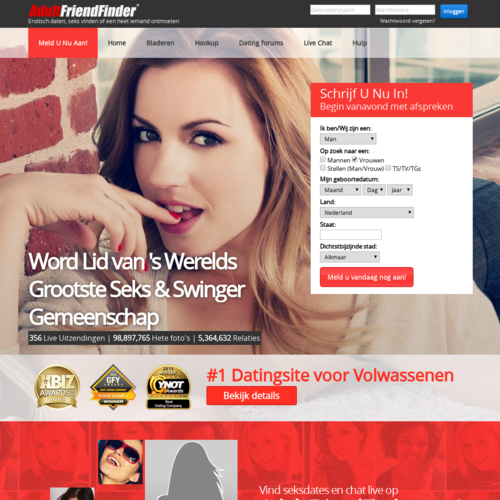 AdultFriendFinder
Best hookups, blogs, and adult community
Are you lonely and tired of watching porn day by day? Even webcam shows can't make you feel better. It happens. You need nothing more but a good fuck with a hot girl from your area. It's not easy to find someone for good sexy time. A lot of guys are shy to get acquainted with girls in the streets. What should you do if you have no chances to find a babe? AdultFriendFinder.com is your solution. It will connect you with your best adult dating matches who live in the same town or even neighborhood. How it is possible? This is a good question. Let's see how it works.
The main page immediately offers you to create an account. If you sign up now, you can start hooking up tonight! If you are lucky enough, you will reach your goal very soon. Indicate who you are. Choose from man, woman, couple, group or transgender. Couple can consist of two men, two women, or man and woman. All possible options are available. If you are a single man, you don't care about all these options. Many other people do. After that, indicate your birthday, country, and Zip code. Congratulations! Now you are a participant of the world's largest sex and swinger community! It consists of hundreds of live broadcast, millions of photos and connections. Let's have fun!
AdultFriendFinder has already helped millions of people to find partners for traditional sex, swinger parties, threesomes, or any other sexual alternatives. Be sure that it will help you find someone, too. Giant network has information about hundreds and thousands of lonely people from your city. You can see pictures of local hot girls and text them if you like them. It's very easy to send a message like in Facebook instead of starting a conversation in public places. Find many appropriate chicks and some of them will be happy to date you for sure. All colleens from AdultFriendFinder are happy to talk dirty and discuss some naughty things. When you meet a chick from AFF in real life, it means you will have sex for 100%. Modest and innocent girls don't create accounts in such kind of social networks.
You always find many local adult matches on AdultFriendFinder because it is engineered perfectly. You get all the best dates and it's a wonderful opportunity. Don't pass by this exceptional site if you are lonely and want to find someone for fun. Most of the people are looking for a quick fuck for a night but others are interested in permanent sexual partner or serious relations. Everything depends on your needs. This community will change your life. Instant messages will help you quickly hook-up with new adult friends anytime you need. When you get horny, don't watch porn videos. Better find a hottie in AFF.
Besides all, AdultFriendFinder has section with blogs. You can find so much necessary information in it. A lot of people write articles and blogs about dating, sex, relations, and many other erotic topics. Feel real community and talk about alternative darting, swinging, various fetishes, and other naughty things. It is so cool to find people who have the same interests and sexual preferences. Be ready for incredible experience. Maybe, you will find new pen-friends there.
AdultFriendFinder is mobile friendly and it is wonderful! You can hook-up with chicks not only using your computer but smartphone and tablet, too. Even if you are on a trip, use this site to find hot girls in a new place. Everything works perfectly. They have enough money to create top-class online service. The design and instruments are perfect. This site was born in 1996 and it is still developing and becoming better. Very experienced in this field guy Andrew Conru knows what he is doing. He is in business since 1994. AdultFriendFinder.com won the award for Dating Program of the Year at the XBIZ awards in 2010. Also, About.com named it the best adult dating website in 2012.
AFF is a huge social network that can be compared with Facebook but is all about fucking and dates. You will be happy to discover that you can message people, participate in private chat rooms, watch profiles with pictures and videos in them, view webcams, read blogs and more. The only disappointing thing is that you should pay for all of that. This site doesn't give you anything for free. When you create an account you receive a few messages from local chicks but can't even read them without providing your card information. Be careful and check your bank account permanently. Good service costs money. I think all payments become worthy when you find a beautiful babe and spend a hot night with her without paying a penny. Find love and sex on AFF. Good luck!