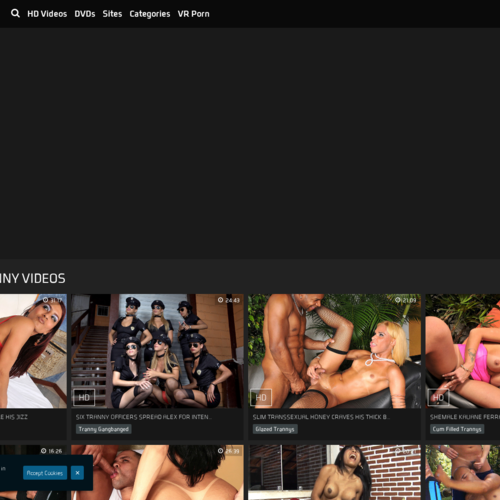 Tranny
Tranny.com. Do you ever wonder how the fuck people get these domains? Like sex.com. The domain alone should be doing the majority of the legwork talking traffic, right? Well, it doesn't seem to be working that well here. Tranny.com is a premium tranny porn site that brings in around 250 thousand viewers every month. Honestly, I expected a lot more. I know it's considered niche, but shemale porn has been fucking killing it lately. It's not like they are a new site. They snagged that domain early way back in 1998.
Like I said up top, this is a premium site. The memberships aren't too expensive. If you go in for a year, it's under 10 bucks a month. But I'll let you know if that shit is worth it. The home page looks pretty promising. Nice, dark site design with video previews going down the center for their newest videos, most popular tranny sites, newest tranny DVDs, tranny cams, and live sex. Up top, there's a header for "HD Videos, DVDs, Photos, Sites, Categories, Live Sex, Live Cams, and Virtual Reality."
They boast an "outlandish" selection of videos and DVDs. They actually do have a pretty sizeable selection of videos, especially since it's solely about tranny chicks. And it's not just the shorter videos. In addition to their impressive catalog of videos, they have a full library of full-length HD DVDs that you can stream or download for free. But this massive collection comes at a steep price. One that I'll get into here in a moment.
The previews are pretty good. Though only a few random ones are animated with 1-2 second gifs. I don't know what the fuck that is all about, but most of them are just still images. High-quality images, but they are all mostly still shots. You get the title, HD tag, studio name, video length, and that's it. Not a bad amount of information. And most of the titles have the models name in it. But be sure to look out for that HD tag.
I'd say around half of the videos have it, maybe a bit more. Lots of the DVDs aren't in HD. And the ones that aren't HD. Oh, man. They are in like 320-420p. I'd say that's nearly unwatchable by today's standards. I get that beefing up your catalog is needed, but when I'm paying for this shit and click on 5 videos in a row that are in piss more quality that's some bullshit right there.