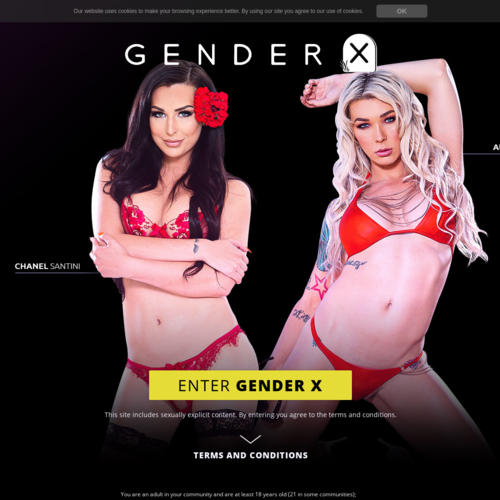 GenderX
GenderX.com is a brand new trans porn site making a shit-ton of waves right now. As I write this, they've only been around for a month or so, but they're already getting nearly 10,000 visitors a day. Call it inclusivity or just depraved perversion, but either way, these are some popular-ass shemales.
Social justice warriors can say what they want about the porn world's use of words like "shemale" and "slut". Us perverts have been all about equality since the jump, because there's a whole world of things to put our dicks in out there. Larry Flynt got fucking shot and crippled for showing an interracial relationship, but nowadays nobody bats an eye at a little blonde babe who's open about her love for BBC.
A similar thing is happening with trans sex. I don't have any numbers to prove it, but do you think it's truly a coincidence? Tranny porn has been getting better and more readily accessible, and at the same exact time, society has been getting more open to the idea of chicks with dicks even existing among the rest of us.
The ridiculous launch numbers for GenderX tell you a lot about how the world has changed, but I think the images spell it out pretty plainly. Even the angriest Trump-voting fag-hater would take one look and think, "They've all got dicks, but mine is raging hard just looking at them! These bitches are hot!"
Maybe it's easier to feel inclusive because these girls are so beautiful. They ain't hiring the butch dudes in wigs you see at the grocery store. These are passable, beautifully feminine chicks-with-dicks like Aubrey Kate, Ella Hollywood, and Natalie Mars. I'm a little embarrassed I had to Google Chanel Santini to see if she had a cock, because all I see is a beautiful woman in the thumbnails.
Chanel is kind of an exception on the landing page, because her junk is hidden in the only thumb of her out front. It's pretty obvious in most of the video thumbnails, because these shemales are doing some pervy-ass shit. You're here for the tranny blowjobs and ladyboy anal sex, right?
The front page is a nice-looking, impressive preview. It ain't just a sales pitch, either. New or not, GenderX has already been catching the attention of porn critics besides me. They just won the Nightmoves Editor's Choice Award for Best TS Release for their four-tranny fuck flick, Transgendered Bosses.
GenderX clearly has some good shit going to keep the new fans coming. There's the freshness of a new site, the hot tranny nympho performers, and the porn that's already winning awards. There's also a pretty fucking killer site launch deal you might want to cash in on while there's time.
New porn sites always struggle with the dilemma of luring new customers with a small catalog. No matter how good the porn is, it's hard to compete with premium networks offering thousands of vids on tap for a similar price. One of GenderX's strategies is to start with a low-as-fuck price for ten bones for a month of access.
The $10 plan doesn't include downloads, which sucks. The twenty-buck plan does, though, and that's still cheaper than the industry-standard $30 a month most TS porn sites are asking. The bad news is that these are just introductory prices. Your membership will be renewed at $20 or $30, depending on which package you chose.
There's a sneaky little checkbox on the sign-up screen that automatically signs you up for ShemalesFlix. Make sure to uncheck that, unless you want to sign up for an extra paysite. I totally expected some tiny-text explanation for the membership to jump to standard paysite price, but trying to trick customers into buying extra shit is shady as fuck.
I'm fucking annoyed about that sneaky sign-up shit, but it's an avoidable pitfall, especially since I already told you about it. One issue about GenderX that can only be overcome by time is the site's tiny catalog. As I said, they're brand fucking new and didn't open with a big blast of exclusive content like some premium sites do. As of this writing, there are only 14 videos on the site.
The good news is that they're clearly committed to filling that library in a hurry. They put out 3 exclusive new shemale movies every week, each one clocking in at around half an hour. I like to see at least one update a week on paysites, and these guys triple that.