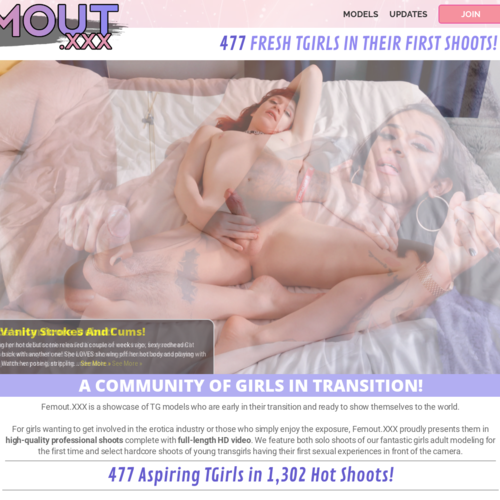 Femout
FemOut has only been online for a few years, but it's brought to you by the same perverts behind Grooby Girls. If you're into shemale smut, you're almost definitely familiar with the operation and their material; these guys have been cranking out tranny smut in some form or another since 1996.
A rotating selection of fresh trannies slides by the top of the preview page. There's a brunette in a schoolgirl skirt stroking her cock, and an exotic beauty lounging naked on a leather couch with a boner. A redhead taps the head of her stiffy, and a cute Latina smiles big for the camera while kneeling seductively on a bed, buttplug conspicuously laying beside her.
There's a little blurb about how they're magnanimously helping these sluts get a leg up in the erotica industry by offering high-quality professional shoots and full-length HD videos. Hey, it's an arrangement that benefits absolutely everybody, so I won't give FemOut too much shit about patting themselves on the back. Right below that are some numbers that will impress you a hell of a lot more than their humblebrag hard-sell.
As of this writing, the collection contains 437 aspiring tgirls in 1,163 porno shoots. That ain't bad for a tranny site that's only been online for a few years.
I clicked a thumbnail of a blonde chick sticking a big, black dildo up her ass. I honestly expected the site to redirect me to a sign-up page, but I found a video preview instead. Score! It's only 15 seconds, but that's enough time to show the girl cramming the toy up her pooper and jacking off.
The site doesn't cut you off after a few previews like some websites do, so I treated myself to a look at a shemale anal sex scene, a chubby tgirl masturbating, and a fetish bimbo showing off her taint piercings. It does get a little frustrating trying to crank it to such short snippets, which is how I ended up on the sign-up page.