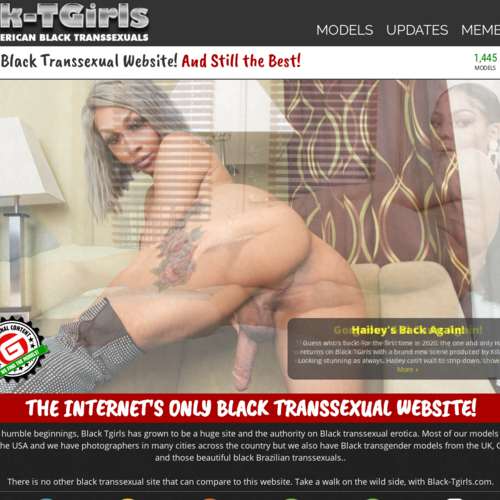 Black TGirls
Maybe it was the haze of last night's vodka-fueled hooker orgy, but when I pulled up Black-TGirls this morning, I forgot I was looking at a shemale site. The landing page came up, flashing me photos of hot Black girls showing off their racks and smiling pretty for the camera. This Ebony goddess with bright red hair took it from behind, and then the photo was replaced with one of a blonde bitch posing naked on a bed.
Blondie had some nice, perky little tits, a killer ass and a nice set of legs running beneath them. My eyes went a little wide as I also spotted the big sausage dangling where you'd typically catch a glimpse of pornstar cunt.
"Oh, right," I thought, shaking the cobwebs from my brain a little. Once I saw the turtles popping their heads out, I couldn't unsee them. Every pretty girl thumbnail on the page has a meaty surprise packed within.
The girls are passable as hell here, which I guess is where the confusion came in. There are only a couple here you'd see in a store and think, "That's a dude." Most of them just look like really gorgeous Black chicks who happen to have big wieners.
Oh, and you really like cock, right? I mean, for a straight dude, because these trannies are packing some serious shit! BBC is BBC, whether it's attached a Black porn stud or a Black tranny pornstar. If you're intimidated by big snakes, you might want to check out an Asian tranny site like TranSexJapan. Black-TGirls is the domain of size queens and lovers of monster schlong.
The thumbnails all have release dates beneath them, and I like what I see. They're currently putting out an exclusive new Black TGirl movie every weekday, which means you can fap to new material every day you go into the office. You'll finally have something to look forward to besides sexually harassing your co-workers.