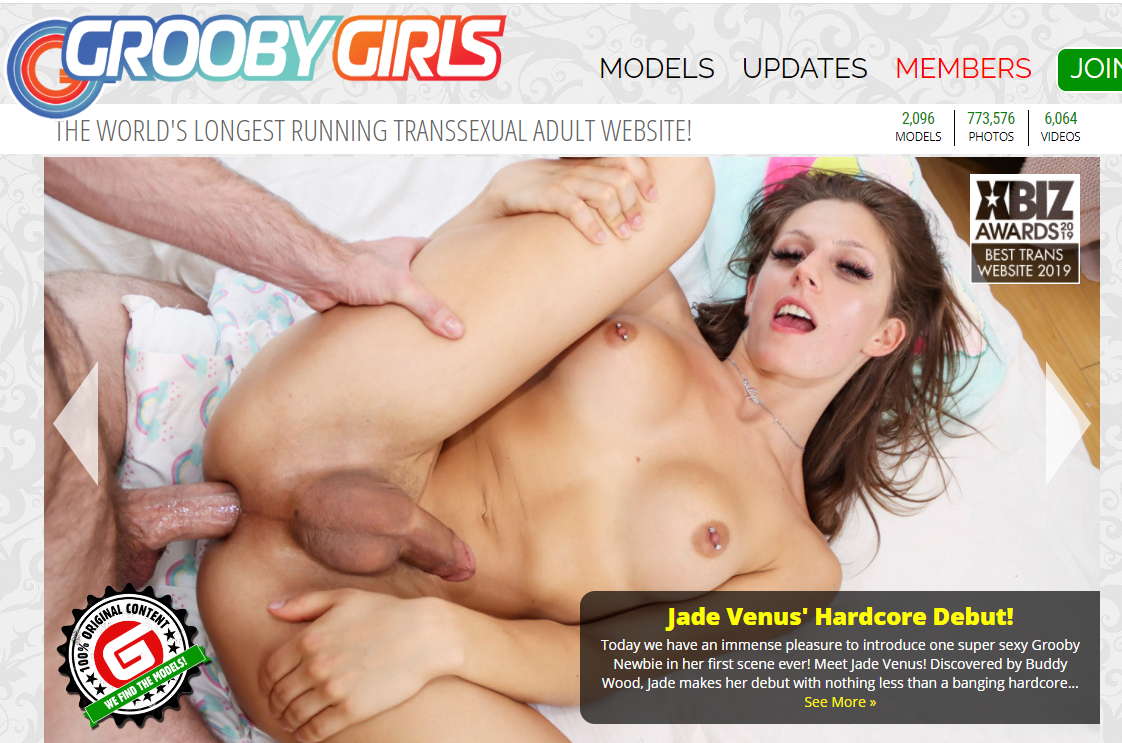 Grooby Girls
GroobyGirls aka Shemale Yum! Sometimes I get a real hankering for a nice, nasty fuck with a blonde hottie with huge tits and a nice ass. I want that little slut to suck my dick clean, let me put it in her pooper, and then give me another dirty oral cleansing. I bet you have similar fantasies, but in yours the bitch also has a huge cock. I ain't the type of guy to judge you, fruitcake, and in fact I'll point you to a classic of the transsexual paysite genre: GroobyGirls.
Before rebranding as GroobyGirls.com in 2017, the longest-running and most successful transsexual porn site on the Internet was called Shemale Yum. They started posting tranny smut back in 1996 and have garnered a steady following that continues to shake their dicks at the site to this day. GroobyGirls gets close to a million visits a month and claims to be "the authoritative tgirl sex site among fans, members, curious surfers and the transsexual adult community." Every paysite toots its own horn and strokes its own and junk, though, so I'll have to dig in myself.
As soon as the landing page loads, a stream of pretty faces and big jugs passes by the top of the screen. These girls have perfect bodies and flawless skin, carefully shaved pubes and completely hairless and ready buttholes. Each one is giving the camera her most seductive fuck-me look, and goddammit I can't help popping a boner even if each one of these broads is packing their own thick, veiny member.
GroobyGirls won the 2019 XBIZ Award for Best Trans Website. I'm not sure what their whole formula is, but one ingredient of their secret formula isn't a secret at all: these shemale sluts are passable as hell. If you pass one on the street, you'd never guess she was a ladyboy unless she whipped her junk out and started swinging it at you. No, you'd probably see her, think, "Wow, what a hot looking bitch," then go home and masturbate thinking about fucking her vagina. Surprise! Turns out you're gay.