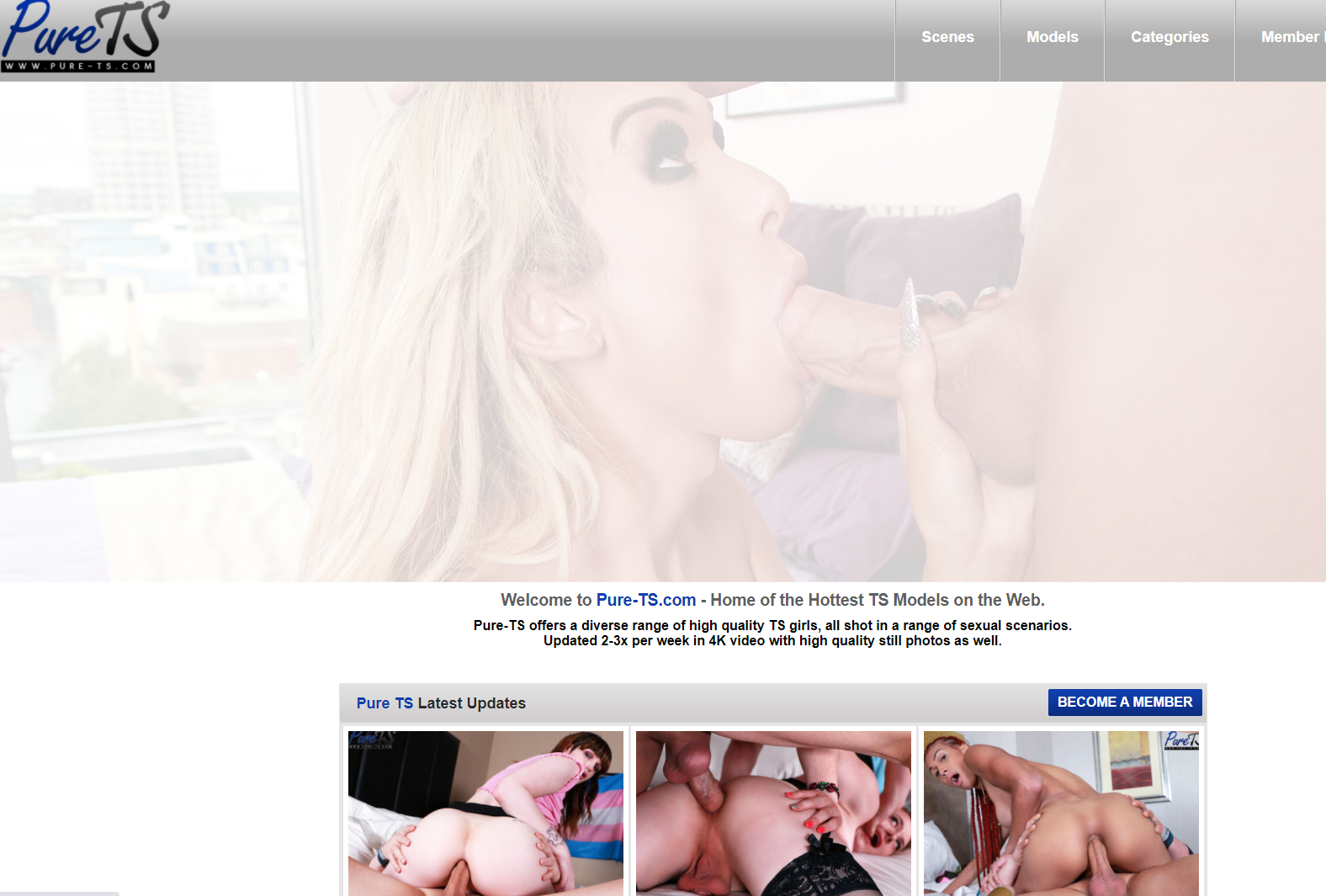 Pure TS
PureTS! If there's one thing I hate, it's impure pornography. I like to think dirty thoughts while looking at unadulterated smut, with beautiful perverts doing kinky shit on camera and no filler between the acts of depravity. Just looking at the landing page to Pure-TS, I get the feeling that's what they have to offer.
You've probably already guessed from the name, but Pure-TS.com is a premium adult site specializing in 100% pure videos of shemales, trannies, and ladyboys getting their fuck on. They've been shooting and uploading these dirty movies since 2013, building up a massive library and a snowballing fanbase along the way. A couple of thousand visitors are now shaking their dicks at the site every day.
It goes without saying that everybody loves different shit when it comes to porno. Some people like blowjobs, others prefer anal; some like Latina shemales, others can't get enough white girls with huge ding-a-lings.
There are some places where most people can agree, though. For example, you won't find a bunch of dudely-ass, masculine men in wigs at Pure-TS. The tgirls on the site ain't the kind of trannies you see at the grocery store and immediately know their dicks are bigger than yours.
Every big-cocked whore I see out on the front page looks passable as fuck. Not just passable, but legit fucking hot. These aren't men with big tits; these are gorgeous women with boners. Sluts like Carrie Emberlyn, Katy Leon, and Natalie Mars look as gorgeous and feminine as any world-class porn babe. They've just got wieners instead of tacos.
Those hot dogs are on proud display in every thumbnail out front. So many photos feature hard dicks aiming straight up, with one penetrating the other partner's butthole. With one less orifice than typical straight porn, you'd better believe they make up for it with plenty of anal fun.