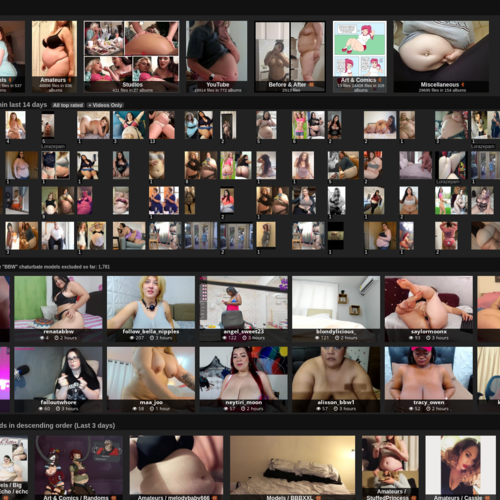 StufferDB
A few sections exist on the home page, and what you'll find in there is quite amazing. I like how much effort has been put into sorting out all of these pictures, videos, and even webcams. Imagine if humans cared about things that matter more (such as politics or science) as much as they cared about pornography. The first section that you'll notice is the section with no name that has all the various categories that you may find on the website.
So, the first one is called "sDB members," and basically what you're supposed to find in here are pictures of thick girls who love taking naked pictures of themselves, and so they ended up posting these pictures to StufferDB.com. Or maybe these are just random pictures the owner of this page found on Google search to make it seem as if the page has some actual fans? I'm just kidding. This page is pretty god damn big when you take the amount of content that is posted here and the traffic it gets into consideration.
Next, we have the "amateurs" category, and this one is pretty much self-explanatory. This one has around 30 thousand files, and they have all been divided into roughly 550 albums. You can expect sexy pictures and videos of wild thick girls here. Next, we have yet another category, and this one has way more content than the previous one, and it is called "models." Within the Models section (which just so happens to have around 53 thousand files within it that have been divided into 372 albums) you'll find pictures and videos of sexy BBW models who love baring it all for the camera, which is quite understandable. Why not show off such lovely chubby bodies to the world? You'll also find a category named "studios," and within this category, you'll find a bunch of videos of thick girls showing off their bodies, but it's in front of an HD camera this time. This section has 216 files within it, and they have been divided into 17 albums.