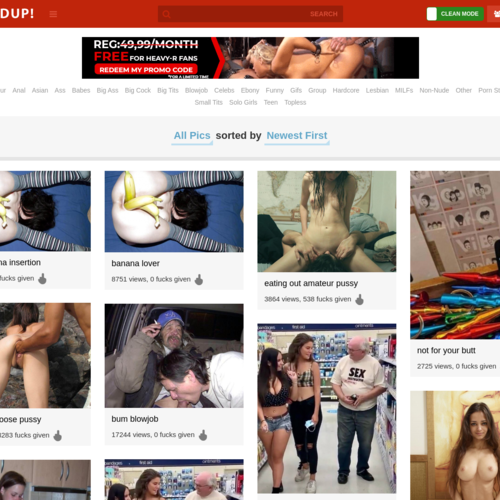 PornedUp
The one thing that immediately caught my attention when I opened up PornedUp.com is the amazing interface that it presents you with. There are plenty of amazing images straight up thrown at your face and even more await as you scroll down. That's the most you'll get out of PornedUp.com by the way. Images, there are no videos on here or anything of the sort, so this place is made exclusively for images only. And that doesn't have to be a bad thing at all, sometimes I just prefer to jack off to still frames.
Sue me, images can be really sexy, even sexier than videos when they're done right, and boy are the images on PornedUp.com done right. Well, they're done right as long as you keep it on the Clean Mode. things get insanely freaky when you go to Dirty Mode. And I mean insane. In fact, I'm going to recommend that you never go to Dirty Mode on PornedUp.com unless you're some kind of freak that likes some pretty disgusting sights in your porn images. For all of us normal people, Clean Mode is king.
Clean Mode is still NSFW, and it has some of the most amazing porn images that you'll see on PornedUp.com and on other porn websites in general. There are some really hot cuties on here that are showing off their amazing bodies and they can't wait for you to boost their score on PornedUp.com. when you rate something on PornedUp.com, it actually registers it as you giving a fuck, and it's signified with a middle finger emoji, so whenever you enjoy something, slap it with a middle finger and continue onwards.