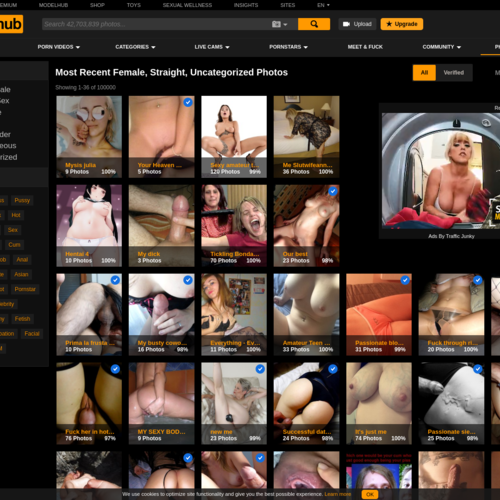 PornHub Pics
You all know the general color scheme by now, I'm sure. That iconic yellow and black design remains the same on the albums page. The design itself is clean and sleek. The regular search bar, network, and page tabs remain up top. No surprises there. The initial page is organized automatically by "Most Recent Female, Straight Photos."
If you want to broaden your search then you can slither on over to the left side of the screen and use their handy checkbox to sort by "solo female, straight sex, solo male, gay, transgender, miscellaneous, or uncategorized." Miscellaneous and uncategorized are both pretty similar. You'll get quite a bit of fetish content if you include those in your search. You can also go to the photos & gifs tab up top to sort the entire page by the top-rated gifs, pics, etc. In addition, there are options to upload your own content or make your own gif right on the site.
Right below that box is another section that allows you to filter and search for certain tags. It's a pretty short list of tags in my opinion, but you have all of the primary shit here like "Ass, Pussy, Sex, Cum, Fetish, Masturbation, and Teen." I think a full category section for the album page would be nice, especially since there nearly 23 million photos here. That's right, I'll wait for you to double-check that you read that right. 23 million photos. Think about that number for a second. That's more than the population of Tokyo and New York City combined. Imagine that many naked people showing off, getting fucked, and masturbating. Phew… I'll try not to explore that awesome scenario in my head too much.
With that search bar, you can find just about anything, which makes the lack of category page not that big of a deal really. You can type in whatever you think would get your dick hard and I'm sure you will find it in an instant. I mean, fuck. How could you not with that much content? They have everything from full-length scanned hentai doujins on here to professionally shot 100+ photo galleries of sexy pornstars getting gangbanged.
Aside from being able to further narrow your findings by the usual options like "top-rated" or "most viewed," you can toggle whether or not to show only verified users. These are sluts that Pornhub pretty much guarantees are actually real people who are uploading the content. It's super-hot browsing through all the attention-seeking babes who are uploading these sexy amateur pics on their own knowing that it's not just some ugly, bitter ex-boyfriend pretending to be a dime piece to get revenge