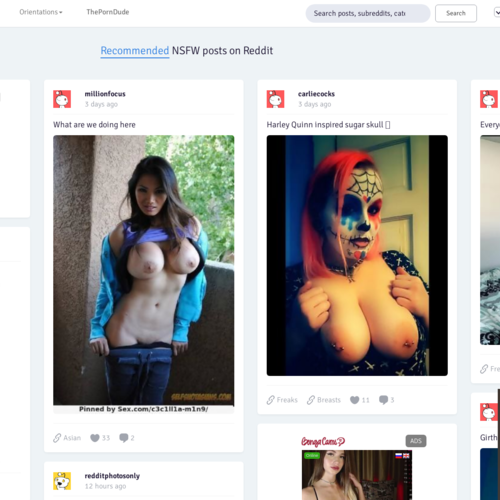 NSFW.xxx
I'll be honest; I didn't see the Reddit connection right away when I landed on NSFW. I was too distracted by all the amateur poon I saw plastered all over the page. A cute Latina smiled with her tits out, a thick babe showed off her round booty in a pair of leggings, and a couple of sluts went grocery shopping in stripper boots with their asses hanging out. That was all in the top row!
While there were a couple of professional shots and videos mixed in, plus a little anime further down the page, the focus is mainly on beautiful amateur babes exposing themselves for the camera. That's the default view, anyway, geared toward the average straight male masturbator. If you click the Orientation dropdown in the header, you can switch from Straight to Bizarre, Cartoons, Gay or Shemale. Reddit's nothing if not inclusive, so even the weeaboos can find some waifu porn to fap to.
Me? I came for the naked girls, so I'm cool with the default view. Another default is to show you the Recommended posts first, which I think is based on what's ranked as Hot on Reddit. There's also a Popular view that pulls up DIY smut from as far back as 2017. I like setting it to New, so I can see all the freshest content streaming in from Reddit. Since they're drawing from such an active well, NSFW.xxx is updated with a near-constant stream of new images, movies and photo galleries.
It's been a productive half hour at the Reddit porn factory, I see. Somebody uploaded a few pics of buff girls showing off their ripped abs, and at least a dozen amateurs have uploaded explicit selfies. A black girl posted a movie fresh out of the shower, some chick is showing off her gaping asshole, and another sweet young lady is demonstrating her love for her boyfriend by fitting his whole cock in her mouth.
Any good amateur site thrives off of an active community. While NSFW.xxx doesn't necessarily have its own community, its drawing from one of the biggest and most active in the world. One of the great things about Reddit is that so many of the girls are regulars who post fresh nudes often, and more are signing up every day. There's no shortage of boobage around here, direct from the source.
Reddit is known for its sprawling nature; there are discussion boards for nearly anything and everything under the sun, including all kinds of sexual activities and pornographic fun. While most nerds see its massive, all-inclusive nature as a good thing, it can be overwhelming for newbies or the less technologically inclined.
Even if you've just browsed my list of NSFW subreddits here on ThePornDude, you know just how many subs are devoted to smut of all kinds. You could explore all of them, trying to find which ones are the most fruitful when it comes to teen titties and cosplay cuties, but your wife might get suspicious that you're spending so much time on the toilet. NSFW.xxx aggregates all the finest smut from all the filthiest subreddits, saving you a shit-ton of time and effort.