Motherless Images review
back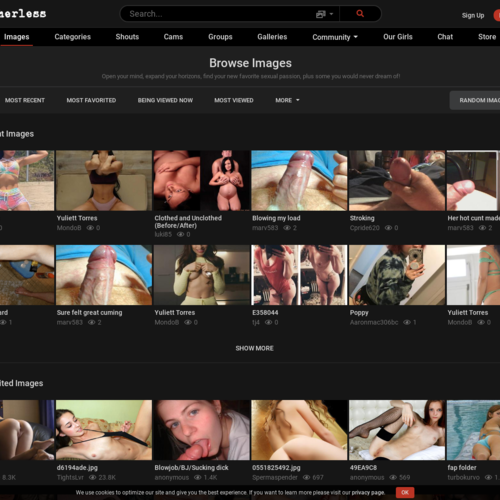 Motherless Images
Click on a thumbnail and be brought to a new page with the image expanded to its full size. Under the image, you can have a few options: add it to your favorites, add it to your groups, add it to one of your galleries, share it to your timeline (or your "Shouts" on Motherless), download the image, or report it (as if anyone on this fucking site is actually going to do that).
In addition to all of these options, Motherless offers quick HTML and BB codes to embed the image to your blog, your website, or your favorite forum, etc. Underneath the code copy boxes, you've got a list of relevant tags, all of which are clickable. The only unfortunate aspect of this is that the tags are not images-specific.
What I mean by this is that clicking on a tag will bring you to everything on the entire site that is filed under it. I never thought I'd say it, but Motherless might be slightly too well-integrated. It would be nice if there was a way to stay in the Images section of the site while also conveniently browsing categories.
On the other hand, though, Motherless, as a whole, is an extremely impressive community-based multimedia site considering the kind of content it infamously provides. You don't really expect a site that got its start in bestiality and scatophilia to be so well-designed and have so many features, is what I mean. Still, though, it would be nice if there were some way to remain locked into Images if I wanted to.
Underneath the tags, Motherless offers up five or six related images to choose from, as well as five or six random galleries, and then five or six links to other sites (in the form of thumbnails). This is probably my biggest design gripe with Motherless Images. I would expect to see a fuck ton more related or suggested images than just six. Especially since, as I was just saying, it is so easy to find yourself out of Images and into the rest of the site. They make it really difficult, it seems, to freely browse just their pictures.
In addition to this slightly annoying feature (or lack thereof?), Motherless also hides links among their thumbnails. Of all the images I clicked on in the related images, I would say about 50% of them just brought me to Porn MD. And not in a particularly helpful way either. The link to Porn MD also automatically filled out a search containing every tag associated with the image, creating a nonsensical stream of search words. If you're going to send me to another site, at least do it in a helpful way…