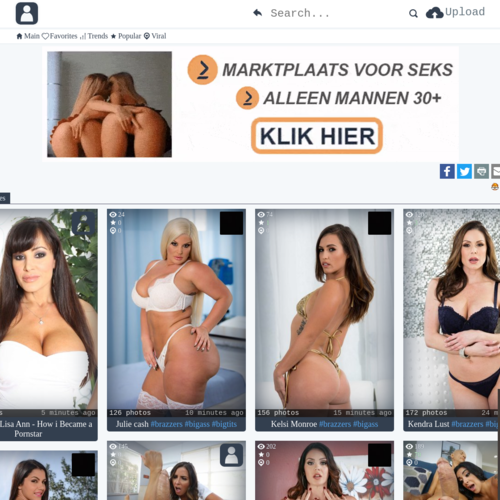 PICS.VC
That's probably the only downside to this design, is the speed. Things take a few seconds to load for the first time, and I'm guessing that all the fancy animations don't really help in that. Also, some parts of the site look very vanilla, while others look like they're ripped straight out of some high-tech library for web design. Something doesn't seem right there, but I guess it can always be improved as time goes on. Either way, it's no big deal, just nitpicking at this point.
Once the pics are in your cache though, that's when things start to speed up. You can check all of the images out by simply going over the entire page with your mouse. And once you've found an album that seems like it would be interesting for you to check out, simply click on it and you'll be sent to the page where you can basically look at the rest of the images from that collection. It's a dream come true for all connoisseurs of professional porn photoshoots.
Now, I did say professional, and that's the content that I think is the best on Pics.vc, but there's also a fair chunk of amateur photos that you can enjoy as well. Girls like to take pictures in some of their sexiest lingerie and they like it when their albums get lots of hits. If amateur chicks are more to your liking, then you can simply search for those on the website rather than for professional pornstars. Either way, you'll definitely find what you're looking for on Pics.vc.
But let me tell you one thing when it comes to the professional sets? Those are some of the best porn pic libraries that I have ever seen. There are some really foxy models on here and they have brought the art of posing nude for photo sessions to perfection. They really have the know-how when it comes to presenting their beautiful bodies to us so that we can enjoy them to their fullest extent. I don't think I've ever seen anything better be presented on a pic porn site for free before.
Pics.vc also does another thing right and that is the ability to navigate the site. See, there isn't a lot of clutter here, and things are pretty clean when it comes to the buttons. This is probably the only time I'll stand in support of a Main or Home button but that's because they don't have a logo or anything to serve as the link to the home page. So, they get a pass but don't think I'll go light on other sites just because this one got a 'go-ahead' from me.