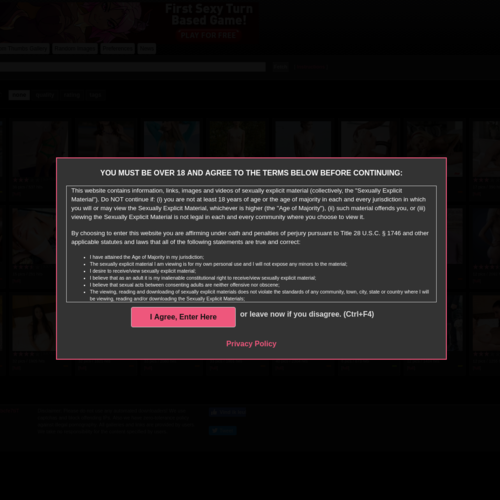 Fuskator
Millions of user-uploaded XXX pics
Sometimes, I get tired of 4k porn movies, VR sex experience, and 60fps videos. I just want to have a quick old school fap without all these luxury content made by professionals. I don't need a long-length movie to satisfy myself. A hot porn gallery can be pretty enough. I can name the adult picture site Fuskator that sometimes really helps me to have a good time. It isn't something crazy and superb but it performs its functions. This site contains only user submitted sex pictures and the owners of the site tell about it on the bottom. Their disclaimer tells that all galleries and link are provided by users and they don't take responsibility for the content. They have zero-tolerance against illegal porn so you will never meet something forbidden on this site. Also, they ask not to use any automated downloaders. Sometimes, people are trying to download millions of pictures. Maybe, they don't want to pay for the Internet connection. Others just want to open the same site. I don't care.
The site looks pretty simple. I see the black background, grey text, some red color, and small thumbs. I hate when everything is so small on a porn site. Big bright thumbs are able to turn user on but small pics don't work like that. You can sort them by rating, tags, quality, and rating. The number of all available images is 7,687,817 from 392,686 galleries. Those numbers are crazy! The collection is permanently growing and isn't going to stop. The users are very active and upload tons of sex pics. You can upload your porn pictures, too. Read the instructions and do it with no doubts. You don't even need and create a free account. Don't be afraid of anonymity. Nobody will find out that you have uploaded a few nudes. Everything sounds very nice. What else can we find on the Fuskator? Random Full Gallery can be a useful button as well as Random Thumbs Gallery. I hope I don't have to explain what it means. Random Images will open a page of random pictures for all tastes. Don't click on Preferences and News. There is nothing interesting there at all.
Okay! More than ten thousand pages of porn photos are waiting for your attention. Is it too much? I think it is. Use the search bar to find exactly what you want. When you open a gallery you can rate it, see how much users have rated it, and see the tags. You can add tags by yourself, add similar galleries, and flag as illegal or inappropriate. This is how users make huge photo collection better every day. Of course, moderators are doing their job, too. But it's impossible to check millions of sex pictures. The quality of sex pics is various. You will find both amateur homemade pictures of real girlfriends and studio XXX photos of popular models and pornstars. There are almost no ads on the site and I really appreciate that. Unfortunately, the mobile version works pretty badly. You will not have a good experience visiting this site on your smartphone.
Fuskator works since 2010 and has over six millions of users per month. They do it because the site shares tons of pictures from any possible niches. You are able to find there anything from solo masturbation to bukkake and BDSM actions. There are no gay porn pictures at all. When you are surfing through the pages, the previews of pictures and galleries are telling you some information. You can see the rating (how many stars), quantity of pics and hits. Also, there is a link "full" to open gallery without thumbs but all photos in their full size. Also, you can notice a short bar. It becomes green when a gallery is considered good. If you see yellow or red line, better don't open it. Probably, it's shitty. When you open gallery with thumbs, press Ctrl on your keyboard and click on pictures that you want to admire. Each of them will open in a new tab and it's pretty comfortable. Try this and you will like it.
There are some things and elements to improve on Fuskator but don't forget that it is just a free porn pictures site. It doesn't try to seem something else. I am ready to recommend Fuskator to all those who are in need of tons of porn pictures for free. You can find sex photos from many various categories and niches here. Giant site looks simple and gives you all necessary instruments and options. The bad thing is that you can't sort anything by category. If you don't know what to watch on Fuskator, just click on Random button and enjoy. Pretty nice porn picture site with not many ads and an incredible number of sex galleries will not disappoint you. I like that everything is for free and you don't even need to create an account.