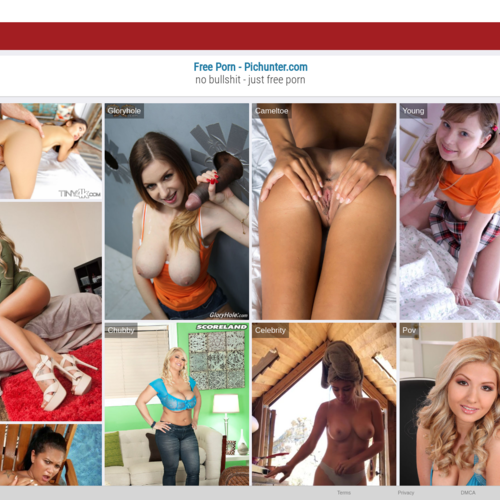 PicHunter
The site runs off a system called Krawl. Krawl allows users to submit photos and videos that are then distributed on Pichunter and its affiliated websites. Users will do this because Pichunter always gives credit, so it works as an advertising tool for the host website. Of course, for Pichunter, they use the content to drive traffic from horny bastards like you and me, making money from the banner ads. Pichunter tries to be very respectful about advertisements, and the ratio of content to bullshit is perfect, unlike many other porno sites.
Just like the bitches' shaved cunts in the photos, the layout is clean, fresh, and pleasing to look at. When you first enter, you'll see a massive gallery of photos. Each photo represents a category, such as teen, pregnant (you freaks), interracial, etc., and the general idea is that you work your way from there. At the top is the navigation bar, which includes links to the different categories. There is also a search bar on the top right for the man who knows what he wants and wants it now.
Pic Hunter is plain simple, just like Sex.com. Aside from the major categories, the site also has sections for pornstars and studios. This place features hundreds of porn stars that you can browse in alphabetical order, making it useful when you want to find a new pornstar to follow. Now that you know their names and faces, you can go to other websites to find videos, cam shows, and even stalk them. Just kidding on that last part, don't stalk these ladies, you fucking psycho.
The Studios category is well made, as well. I know most people don't pay attention to studios, but you'll find the following studios surprisingly effective in getting your dick hard. Chances are, studios will offer similar photos and models, so if you enjoy a set from a particular studio, then the rest of their collection is worth checking out. Take a look at "Pacinos Adventures" for them "Caliente mamacitas".
Also, the mobile display is well-put-together, just as the desktop version. PicHunter doesn't mess around when it comes to setting up good user experience. Next time you're at the library, or laying in bed next to the wife, sneak a peek. You won't have to worry about any sudden fucking bursts of noise on this site, and everything is neatly laid out and easy to navigate.
Content
Like I said before, Pichunter has a broad range of content. Being a photo site means that it will have just about everything because pics are the broadest form of porn available. You can expect specific shit such as "short hair" (referring to the head on their hair by the way), latex, young (but not too young!), and many, many more.
Pichunter has account features as well, and registration is free. When you register for an account, you get access to features such as making photo collections, posting comments, having "favorites", and uploading your self-shot content. This all appears to be under the overall "Krawl" network, which I mentioned before.
I also want to mention Pichunter's sister sites, which include Gexo.com and Cliphunter.com. Similar to Pichunter, these are also no-bullshit websites for your porn viewing experience. Gexo.com is a porn tube that considers itself as an "experiment", because it doesn't generate enough money to run by itself and relies on user donations.
Gexo's idea is that they will run a very user-friendly website with minimal ads, instead of relying on donations to keep going. I hope they can keep running, because Gexo is one of the cleanest video sites I've seen, and the owner also says that if they don't make enough money eventually, they'll be forced to spam advertisements. A man's gotta appreciate the effort.
Cliphunter looks a lot like Pichunter, except of course it features videos instead of photos. The layout is almost the same, so you know what to expect. Cliphunter is an excellent place for browsing vids, so check it out if you want to bust a nut. Both Cliphunter and Gexo.com feature HD content as well.