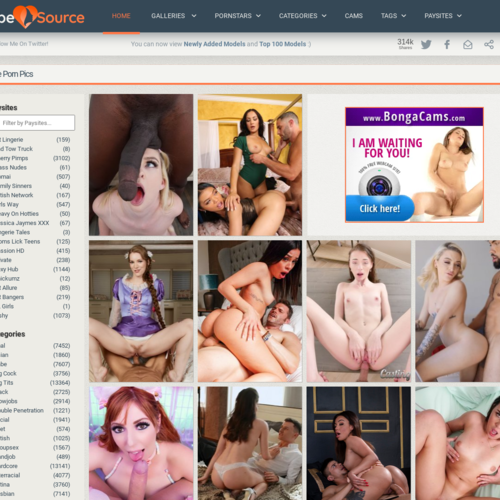 BabeSource
It is best if I told you beforehand that the babes at Babe Source are a fucking piece of art. Whether they are masturbating on camera, sucking cocks, or just getting an old fashioned pussy pounding, the galleries you are about to witness have captured the scenes in tasteful and breathtaking shots that are sure to inspire lust in your fucking loins. There is nothing these sluts love more than to peel off their clothes and expose their delicious pink slits and other sensual parts of their bodies to send your hand scampering southwards involuntarily. Let's take a closer look.
Babe Source starts by giving you a taste of what lies ahead by lining up random sluts and their galleries and although I'm not the biggest fan of fapping to porn pics, there was enough nudity in the galleries to prompt me to click on more than just a few of the galleries and I must admit; I was left massively impressed. Damn! There was even some movement inside my pants as I scrolled. The gentle caresses of the nude women will take you straight to erotic dreamland.
The first gallery I picked featured the sultry Madelyn Monroe and Nadya Nabakova flaunting their goodies and fiddling with each other's clits in super sensual galleries of the highest quality. The photography is on another level and will focus on small details like the tip of the girl's boobs, their lips as they are about to come together for a lesbian kiss, or just their bodies in sensual poses that stir your imagination and invite you to the world of untold pleasure and erotic delight. The homepage is filled with such sexy specimen, bringing you tantalizing and appetizing sexy posing, solo masturbation, sensuous lesbian erotica, and intense and explicit couple scenes all featuring the sexiest whores in the business. There are all kinds of galleries here, and it all comes down to whatever the fuck gets your rocks off.
As mentioned, every single image on Babesource.com is a fucking gem. You won't find any of that shitty amateur crap that looks like it was taken from a 19th-century camera. All the galleries here are picture perfect and every featured babe hotter than a furnace. You could randomly click on any gallery on the homepage, and one thing is common; everything is taken with such precision, devoid of distracting details, which allows the girls' sexiness and inner beauty shine through. The galleries are modern, explicit, and extremely arousing for anyone who derives their pleasures off still erotic images.