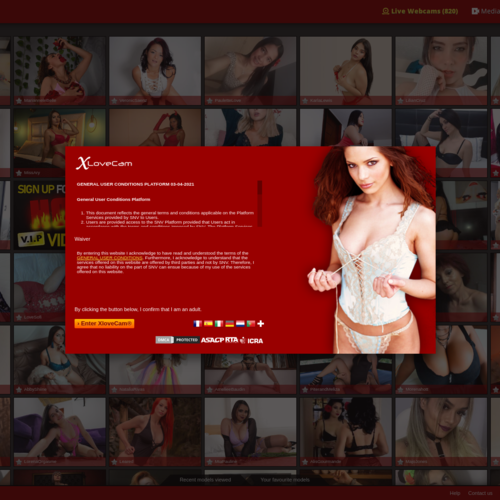 XloveCam
Cam sites full of horny chicks, eager to show off their goods to the world, are nothing new. Hell, they exploded once streaming video was accessible to every nympho with a webcam. XLove Cam ain't new either; the site's been around for 12 years now, so they've had time to figure out how to do this thing right.
The first thing you see when you pull up X Love Cam is pretty much what you'd expect from a cam site. Row after row of scantily clad seductresses smile at you from the main page, trying to entice you into their show with exposed boobs or lingerie. Most tastes are represented immediately. I see every age, ethnicity, bust size and hair color on the first page. Hover over an image to get a glimpse at what's going on in their live room.
They're initially sorted by most recent login. Girls at the top of the list just got on. Go give them some love before they get bored and leave. Right now, about 500 girls are live, which is a pretty nice selection of sexy ladies. I'm browsing midday on a Monday, which I'd guess is far from peak hours.
An ad on the sidebar promotes a couple of events called Topless. One's a 24-hour marathon of live cam shows that more than a thousand models have signed up to participate in. Another is the Halloween Topless party. Fewer have signed up for this one, but I'm sure there will be a good turnout.
I'll warn you cheap motherfuckers upfront, this is a paysite. It really helps to have a few bucks in your account to get private shows and tip the girls. They're more likely to do what you ask them if they know you're not a bum.
That said, you can browse the cam girls by their rates. Some of them won't perform for less than $4.00, but nearly a quarter of the ones who were online when I was had rates under a dollar. It's not a bad bargain for some T&A.
If you're truly a broke-ass loser, there is a fair amount of free action in the public rooms. I haven't even logged in yet, but I've just spent a few minutes watching a dark-haired MILF named Dalilahsex play with her huge knockers and sing along to No Doubt.