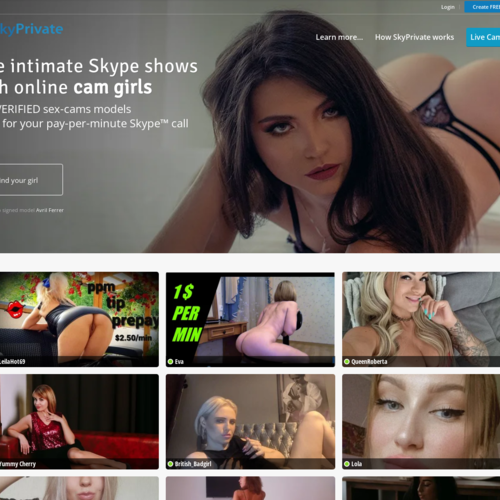 SkyPrivate
Introducing SkyPrivate.com: an adult camming model site that operates solely via Skype shows. No more sitting in line with a bunch of other dudes who are jacking off and tipping, waiting to go private with her. With SkyPrivate, you go private from the start. Once you create an account and load it with at least $25 in funds, you can begin choosing from the enormous list of girls SkyPrivate has available.
Girls on Sky Private set their own price per minute. And they can choose anything between $1 per minute and $12 per minute. Just a quick note: it doesn't appear as if the $12 a minute models have a whole lot more to offer (other than maybe oversized egos). Some of the pricier girls are insanely hot, sure, but, then again, so are some of the $1/minute girls. Don't be duped!
Speaking of hot chicks … holy fuck, SkyPrivate has so many of them. Seriously, like a much higher ratio of extremely hot to average looking chicks than I have seen on any other camming platform in my life. This must be the allure of Skyprivate's model-oriented way of doing business; putting the lady in control of her own prices, rules, limitations, niche kinks, etc.
In addition to having the hottest chicks, SkyPrivate is also going to have more experiences cam girls than many other sites. It would make sense that a girl might not be as privy to the benefits of a service like SkyPrivate over a more traditional cam site had she never worked as a cam girl before. Although I did come across a few rookies here and there, the overwhelming majority of the girls on SkyPrivate seemed to know what they were doing.