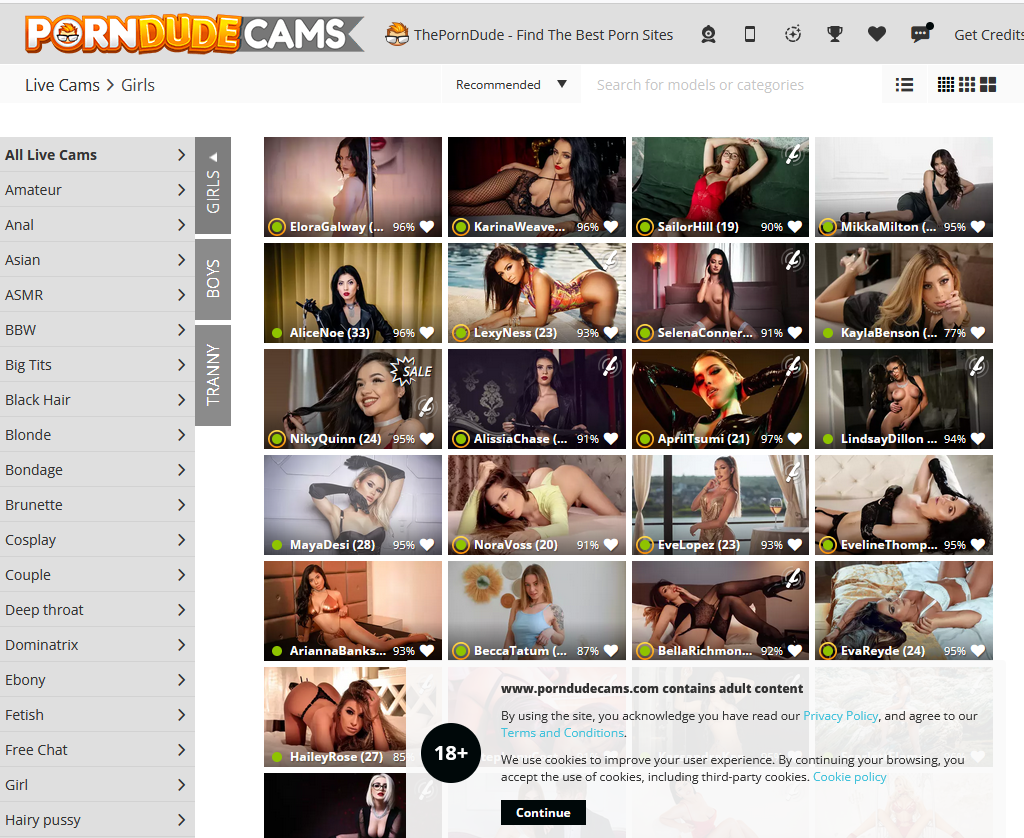 PornDudeCams
Porndudecams.com is a cam site run by me, your number one source for the best porn sites on the internet. It's been going strong with over 130 thousand views every single month. And it got launched back in 2017. Not too bad for a newish site, but I think we could do better. I want to see that number pop up much higher.
The cam site is free to use, but, like most other sites, you'll have to pay up if you want access to private shows and shit like that. But I threw in a few unique features here and there to make things interesting. Alright, I'll stop patting myself on the back and get to going through this like a regular review.
The landing page is similar to what you would expect from other cam sites. It's got a white backdrop with cam previews running across most of the page. The left has a list of all the categories. That's a pretty nice touch. Often you just kind of have to bumble around hoping to find the right kind of cam girl to match your tastes.
Here you can sort by things like "Dominatrix, Footjob, Couples, Asian, and Big Tits." And that's just naming a few of them. There are a shit ton of options. If you're into dudes or like chicks with dicks, then this site has got you covered. Just click on the tabs next to the categories for "Boys, Girls, or Tranny" to filter the entire list of cams by those options.
There's a header up top that has options for "Favorites, My History, Awards, Club Elite, and Get Free Credits." And, of course, there's a button that'll take you back over here if you're looking for some more awesome porn sites. The favorites and my history buttons are exactly what you would expect. You can check out the cam girls you recently visited, which I fucking love.
It's a small feature that other cam sites lack. It sucks especially hard when that cam girl was like a dream come true, but you end up forgetting their name the next day. And the favorites tab lets you view all the cam girls that you've added as your favorites, so that makes it easy to see when they are online.
Club Elite is interesting. For each credit you spend on the site, you get points that level up your user rank. The ranks go as follows: "Crush, Lover, Sweetheart, Lancelot, Romeo, and Casanova." For each rank that you go up, you get more daily points and rewards. And some nice bragging rights. It also gets you some attention from the models.