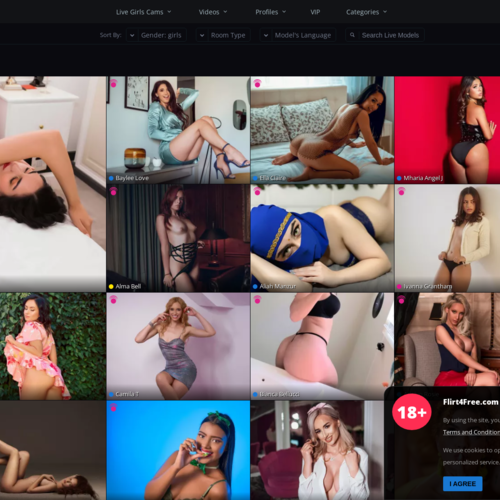 Flirt4Free
Flirt4Free nicely lists the models by the category of the filth fucking stuff they love to do for you. On top of that, if you find a model you like you can check when they'll be online throughout the week. Plus, if you want to know who the newest talent is and what their stats are, just check the 'New Model' tab.
As I talked about earlier, Flirt4Free.com has one of my favorite features in a smut site: super veiny vaginas. Nah, just kidding. The other 'v' word – tons and tons of variety both in terms of performers and website specials. New promos are up all the time for every season and to spice F4F's content up. For instance, during autumn they've got a sweet Halloween-inspired deal going.
No, seriously, check out the promo trailer, especially if you're into girls wearing slutty costumes. It's awesome.
Speaking of sexy girls in strange garb, besides the main categories, they've got a whole special sub-section section for models who specialize in BDSM and other kinky shit. So all you fetish freaks out there have something to look forward to.
Of course, if you look at the categories section or the fetish sub-site, a lot of the talent specializes in certain sexy performances. However, from what I've seen most of the girls don't have a ton of hard nos.