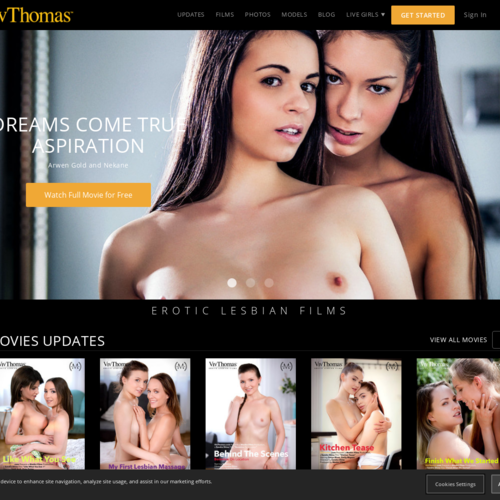 Viv Thomas
VivThomas is actually a legendary website that's been around almost as long as I have. All of the videos are directed and produced by legendary porn producer Vivian Thomas, hence the name. I gotta say, this guy really knows lesbians. I've never been a fan of his stuff, because he's actually a bit of a romantic – a real standup guy. Personally, I prefer filthy smut, and VivThomas is anything but filthy. These movies are pure quality, rivaling Playboy in levels of respect they have for the female form.
Now just because it's not my cup of tea, doesn't mean this website was made for women exclusively. I'll admit, I jacked it to some of these videos without a problem; they're hot as fuck. But they're obviously not made by a pervert director with his dick in his hands – there's some quality directing going on here.
Most of the videos are one on one vids between two girls who are seemingly in love. There's a certain sense of privacy. They're not acting as if they're there to impress you with their lesbian action – they're just sort of swept up in the moment.