African Lesbians review
back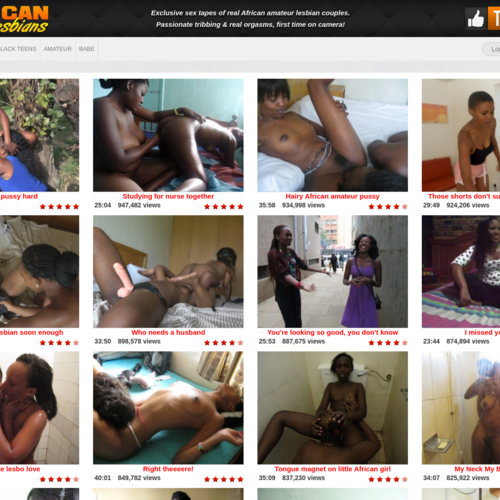 African Lesbians
AfricanLesbians.com is a porn site about, you guessed it, lesbians from Africa. I love it when it does what it says on the tin! When they say African, they don't just mean any old black chicks; they mean chicks from across the African continent, from Nigeria to Mozambique and everywhere in between. Hey, when you've got jungle fever, it makes sense to go looking in countries that have actual jungles.
I've got to tell you, the landing page at AfricanLesbians is a bit of a tease. When I first saw the place, I thought it was a free tube devoted to beautiful black chicks getting their pussies eaten by other black girls, scissoring, and doing all kinds of crazy shit with double-ended dildos.
There's a sexy amateur vibe going on here. The screengrabs show bad bitches in rough, raw, real fuck scenes in what looks like real bedrooms and hotel rooms. One chick is getting her pussy fingered on a toilet and a couple of other babes are about to get it on in the middle of a busy public sidewalk. As much as I love the polished, professional shit, there's something special about genuine DIY fuck movies. They've got passion and intensity that's hard to fake, no matter how many bright lights or 4k cameras you aim at a bored big-name slut.