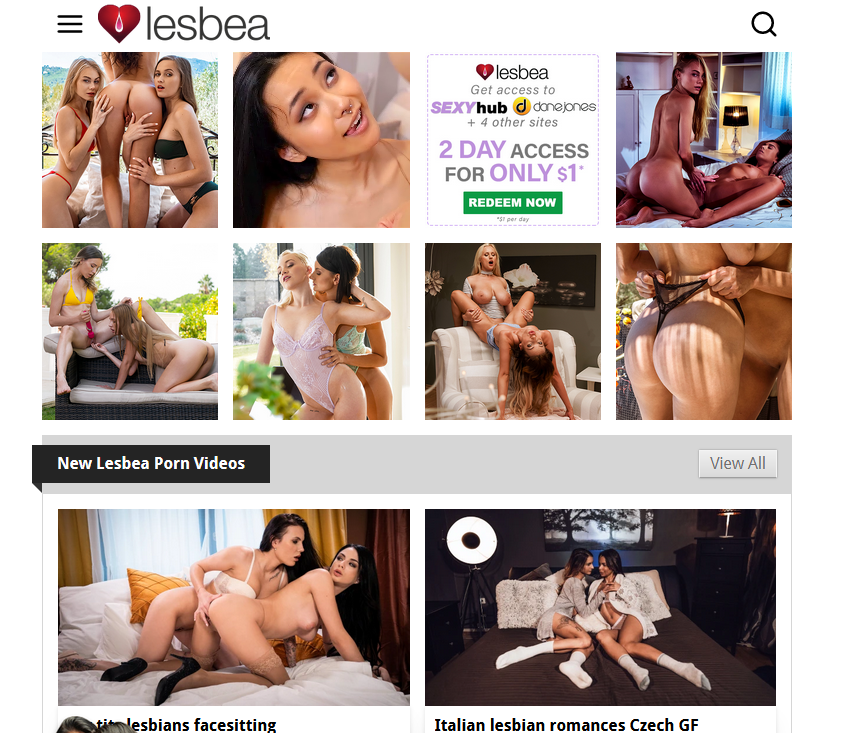 Lesbea
Lesbea.com is part of the SexyHub network. They are a relatively new player in the online porno business, hitting the web in 2014. While they may not have the brand recognition as big boys like Reality Kings and Brazzers, they do get more than 13,000 hits a day. I have to assume their girl-on-girl offerings are part of their appeal, but I guess I won't know until I beat off to some of them.
A big image at the top of the landing page advertises one of Lesbea's newest pictures. The text reads Beauty Licks Latina, three words that aren't quite a sentence and barely a movie title, but they do say more than enough to get your heart pounding and the blood flowing straight to your dick. Just in case your brain is a little slower processing words, the photos will do the trick. One shows an intimate smile with a more-than-friendly boob grope, the other shows the sluts fully naked in bed and ready to get down.
Slide the Beauty and the Latina over and they're replaced by two hot blondes in a flick called Hot Tongue Ride. Again, it's a pretty fucking descriptive title, but they do one better by including a couple of photos of twat licking. I don't think anyone would confuse a scene called Lonely MILF Room Service with a Lifetime movie about a sad lady taking a break from her family in a hotel, but the dark-haired cougar riding a cock spells it out a little more clearly. The big, glorious banner for MILF and Teen Threesome shows just that.