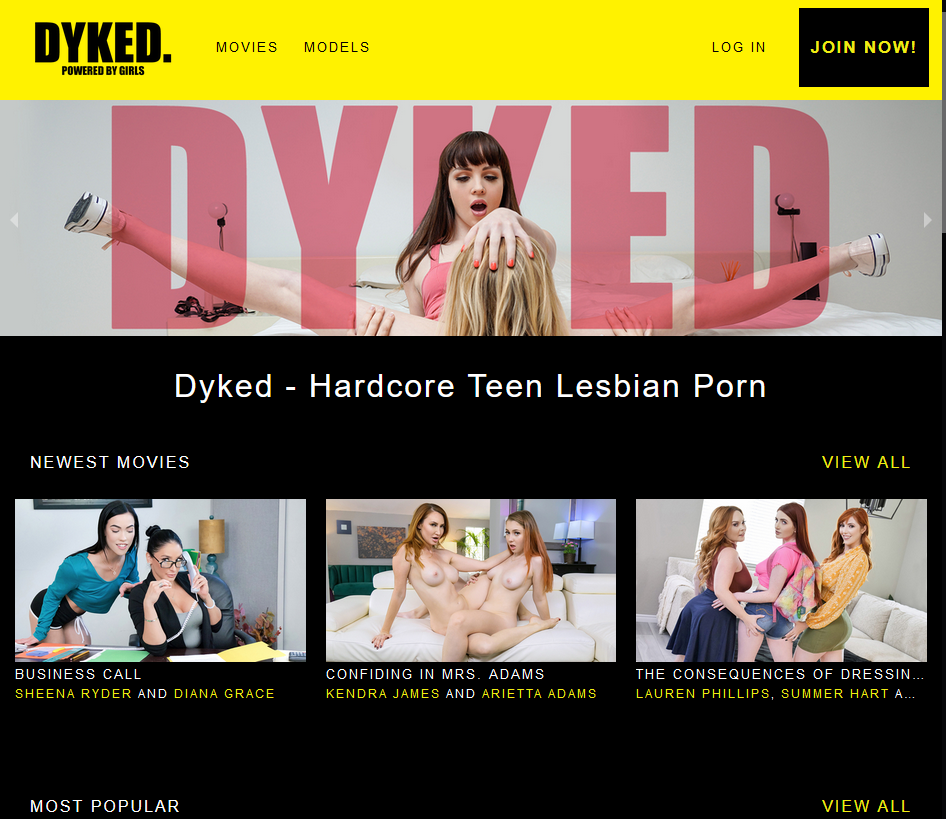 Dyked
This is a pay site, so cheapskates and bums need not to apply. For those with a passion for lesbian sex movies and a few dollars to burn, you can log into Dyked for your fix. They've only been around since 2014, but they're a TeamSkeet site, so you already know this is going to be world-class porno.
The history of female empowerment is a weird fucking thing. It wasn't that long ago that women were burning their bras in the street and celebrating new birth control methods by getting fucked raw by a bunch of partners. It was empowering as hell. In 2018, though, female empowerment is writing #metoo on your Instagram and complaining about a bad lay until somebody gets arrested.
Dyked is going to go down in feminist history for taking the power back. This isn't the model of female empowerment where you act like a huge pussy about your tight vagina. Dyked's motto is POWERED BY GIRLS, and they're serious about girl power.
The pre-login landing page is covered in thumbnails that show you exactly how girls power Dyked. You won't find any hairy armpits, protest signs, or tearful video testimonials equating drunken hookups with armed gang-rape. No, these girls advance the struggles of women in far more meaningful ways.
There's a definite theme here. For one thing, there are no dudes at all. There are a few strap-ons, mostly wielded by MILFs teaching these slutty teens how it's done. It's really sweet. Somebody's got to teach the younger generation how to eat hot muff, get fingered in a pool, or have two girls pull your legs over your head while another girl buries her tongue in your snatch.