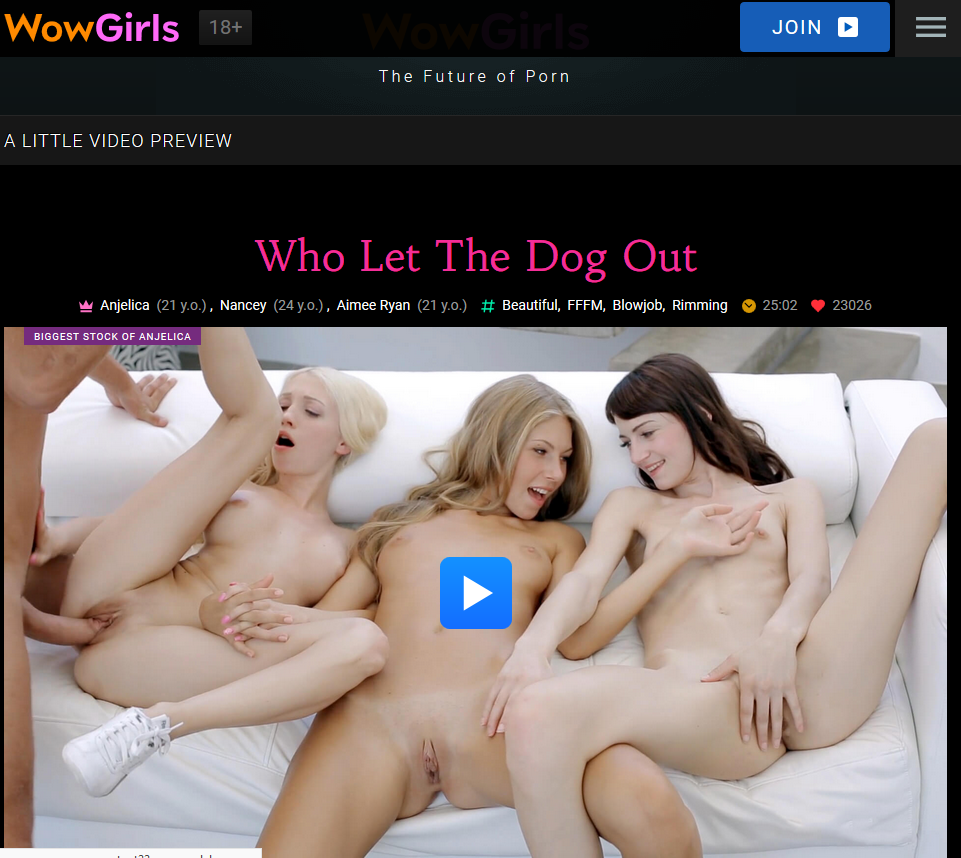 WowGirls
WowGirls.com calls themselves The Future of Porn, but they've got a pretty impressive past, too. They've been building their collection of hot young whores fucking each other and every cock they can find since 2006, amassing a collection that now spans nearly 10,000 explicit sex videos! I hope you have really good forearm stamina.
I have to mention that "Future of Porn" motto again because the landing page sure as hell has a timeless look. By that, I mean, you can't really tell what era of Internet porn it came out of. The basic text and single-column layout look age-appropriate for a site that first popped up in 2006, but the crisp moving previews are as modern as can be. A lot of old websites like this have a really stale look and layout, so I like that these guys have kept up with the times while maintaining something of their old flavor.
Another tagline at the top of the screen tells us, "The Most Beautiful, Nude, Sexed Up Girls on Films Are Called Wow Girls!" It sounds like a typical porn-site brag, but it's hard to complain about the hotties spread out all over the page. It's mostly one-name, amateur Euro teens and a smattering of pornstars you've heard of. They don't have the biggest names in the business, but they've got some true stunners like Aimee Ryan, Izzy Delphine and Alecia Fox.
They seem to have a type here. The Wow Girls all skew young, mostly late teens and early 20s, with slender body types and faces that only look innocent. I think all the unknown Euro chicks really enhances the girl-next-door appeal of the site. I love the cute mega-starlets you see on the biggest porn sites, but we've already seen them enough times to know they ain't half as innocent as they seem. Some of these WowGirls almost have me fooled until I see them eating cock.