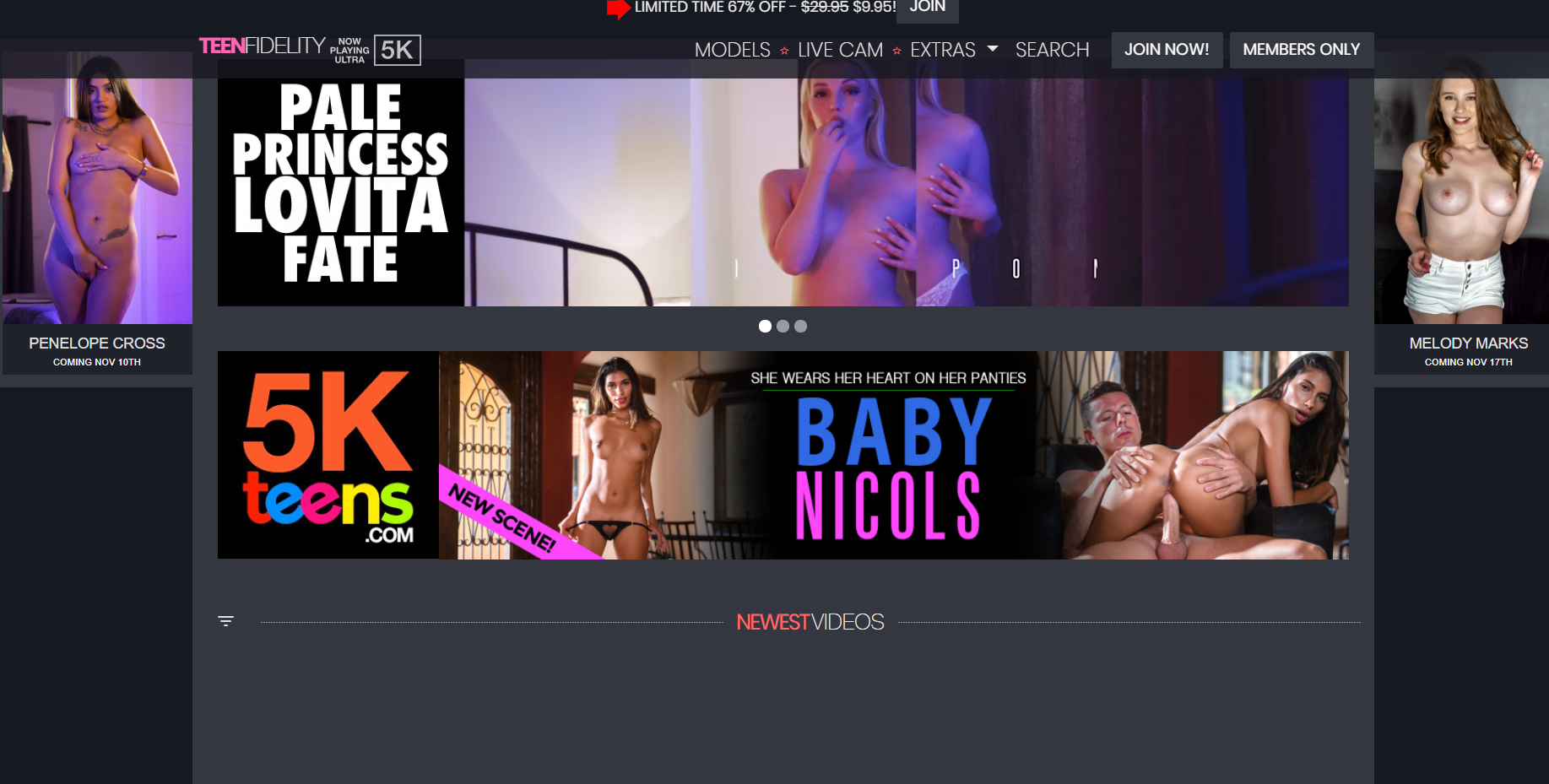 TeenFidelity
TeenFidelity.com has been putting out teenage fuck movies since 2010. They are part of Kelly Madison Media, a porn operation that's been around for a little over two decades now. Longevity is good to see in any business, and here it tells us that these guys really know how to make smut that keeps perverts cranking it. It's been a couple of hours since my last fap session, so I can't wait to get into it.
With so many premium hardcore sites to choose from these days, everybody tries to make as big a splash as they can on the landing page. It's no different at TeenFidelity, where they immediately hit you with a wall of preview images that will make your eyes bug out, and your dick inflates like an emergency life best.
The very top of the screen features a silent video montage of some of the site's newest and most popular teen smut. I'm writing this at the very beginning of 2020, and they're celebrating with a scene of Carmen Rae banging in the new year. In just a few seconds, the montage shows her getting fucked in the face and from behind, and her tight little cunt dripping a sticky white creampie.
That moving preview at the top is hot and extremely heavy, with Gwen Vicious, Dixie Lynn, and Leah Lee all taking some brutal dick and spilling fluids all over the goddamn place. A lot of you are going to have the same problem just watching this preview, so get the tissues ready.
Scroll down the page a bit, and you'll find thumbnails from all of TeenFidelity's newest fuck flicks. They're putting out new material twice a week, and the thumbnails show moving previews upon hover over. Lisey Sweet is in a Supergirl outfit taking it up the ass in a flick released a week ago called Super Anal, and some really lucky motherfucker has a threesome with Keira Croft and Chanel Grey in the site's 400th episode.