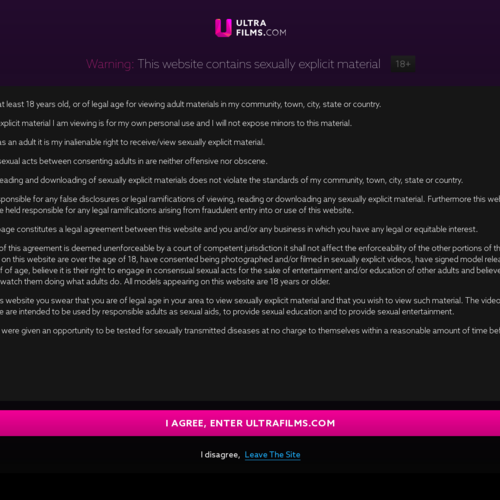 UltraFilms
UltraFilms.com subtitles itself "Real and Unreal Stories of Your Beloved Girls." Just who are these beloved girls they're speaking of and what kind of stories are they telling? You've probably already got a good idea since I'm even reviewing the site here at ThePornDude, but I'll fill in all the blanks for you. Ultra Films is a premium porn site full of sweet-faced Euro sluts getting fucked in 4k.
The site's got Ultra in the name, so I was hoping immediately that the movies would be in 4k ultra-HD. I was not disappointed. Naughty America launched the first 4k video site in 2014, and there are still corners of the online porno world that are trying to catch up. UltraFilms has been up and running since 2017, and they've been going full 4k the whole time.
That 4k ultra-HD is a huge fucking upgrade from the Tetris-quality videos some of the free tubes are still offering. It lets you get in good and close, where you can really appreciate every inch of flesh, every little curve and every glistening drop of girlcum dripping out of those tight little twats.
At UltraFilms.com, that 4k resolution is put to work showcasing gorgeous, slim young babes. I see a lot of thick-bootied chicks, exotic divas and voluptuous MILFs filling up the OnlyFans leaks sites and paysites alike, but those definitely ain't the type here. These girls are young, in their legal teens and early twenties. You'll find blondes, brunettes and redheads, but aside from a couple of girls who might be Latinas, they're all white chicks.
They're all universally slim-bodied little sluts, too. If you're the type of dude who appreciates a babe you can just pick up and plop down on your dick, Ultra Films is going to be your kind of joint. Titties naturally skew a little smaller on a site like this, but on the other hand, you get some beautifully perky natural titties to look at when you're beating off.