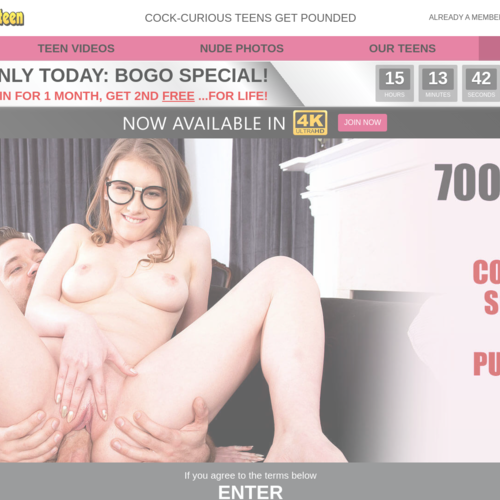 18eighteen
18Eighteen.com promises not just eighteen 18-year-olds, but over 1,500 of them. Maybe 1500eighteen didn't have the same ring to it, or perhaps they didn't want to keep updating the URL every time they hit a new milestone. Whatever. I admit, I'm less concerned about the name than the cum-filled teens, creampies, anal and facials they're promising out front. These vital concerns are shared by over a million monthly visitors.
There are a lot of innocent faces on the preview page of this hive of perversion. Anastasia Knight shows her O-face for the camera, braces and all, in a big image at the top of the screen. What's making her open her mouth so wide? Maybe it's the surprise of having a big old dick shoved up her asshole.
Good goddamn, these are some young sluts! I had to check the 2257 statement in the footer just to make sure these girls were legal. The thumbnails for the latest scenes show girls fresh out of school and ready to fuck. Some of these bitches are tiny. I'm talking pick-them-up and spin-them-around-on-your-dick size.
The scene titles themselves give further clues to the perversion within. Cum Along with Alicia features a thumbnail of a ripe young blonde taking her shirt off, prepping to give herself an orgasm if the title is to be believed. It must be that brunette's birthday in 18 And Ready To Fuck, and I think that's a real amateur schoolgirl in Amateur Schoolgirl Pounding.
I have to admit that I'm a little embarrassed as a Porn Dude that I don't recognize many of these girls. They're fucking gorgeous and deserve worldwide acclaim, that's for sure. It could be a good sign, though. There are so many "amateur teen" sites out there claiming to have fresh-faced virgins, but then you see a bunch of babes you've been jerking off to for years. The girls at 18Eighteen look a lot more like real teenagers.
18Eighteen also has a rich selection of teen photos for you old-school perverts. A row of gorgeous sluts with recent galleries graces the preview page. The photosets run deep here: there are nearly 3,000 of them, each typically running upwards of 100 explicit photos of naughty teenagers. Yummy yum!