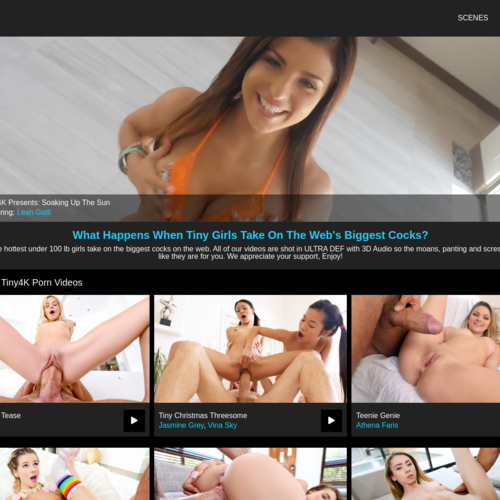 Tiny4K
Tiny4k is a young site, having only been around a few years. The early days of a nudie site are a delicate time, and most sites just don't have the T&A power to stay afloat in this competitive world of fuck videos. Tiny4k has not only managed to stick around, but they're getting a couple of million views a month. Today, I'm going to be one of them.


The preview page has a handful of short sample clips. They're only about a minute each, full of quick and dirty montages. It's enough to get you excited, but cut in a way that's going to make it hard to whack off to the free material. Clever.
The sample at the top of Tiny4k is from a movie called Soaking Up The Sun, with Leah Gotti. I'm crazy about this chick because she reminds me of a really slutty Anna Kendrick who sometimes does anal taboo hardcore.
Leah smiles and shows off her tits, pussy, and asshole for the first half of the sample, and then the stud shows up. Dude fucking towers over the little whore, who does a naked handstand to give him better access.
As advertised, the 4k video is crisp as fuck. You can view this site on your phone, but you have to check out the clarity on a larger screen. You can make out every wrinkle of Leah's puckered asshole. The girl looks practically edible.