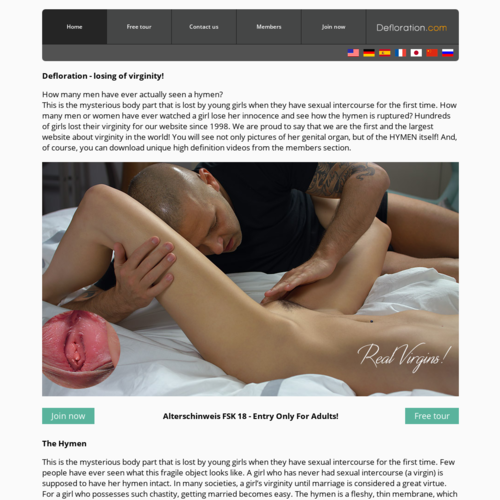 Defloration
One of the first clues that this website has been around for so long is just the layout itself. It's definitely nothing fancy to look at, with simple plain text and a basic header. There's no video playing automatically at the top of the screen when you first pull up the URL, as you'll find on a lot of the more modern and flashy paysites. There is, however, a video trailer presented as the site's main enticement to get you inside.
I clicked the Play button, and a message flashed on the screen saying they use Real Virgins Only. A perky-voiced broad starts in with a voiceover, again asking how many men have actually seen a hymen. On-screen, we see close-ups of the fleshy membrane interspersed with short clips of these girls getting them popped. One dick gets pulled out of a sweet teen's cunt covered in blood.
"We are the first and the largest website about virginity in the world!" the voiceover claims as more hymens flash on the screen. That's a pretty fucking bold statement, which is pretty much par the course for any premium website. It might be true, though; I can't recall seeing any other websites lately with so many close-ups of unpopped cherries, followed by their graphic popping.
The voiceover goes on to tell us that these girls were all 18 at the time of filming. Unlike a lot of "teen" websites where the broads are clearly aging soccer moms who have dyed their hair blonde, these chicks do look like they just got out of high school. The statement is reassuring, as is the 2257 report in the footer of the site. The feds won't be kicking down your door just for jacking off to Defloration.
If the video trailer ain't enough to get you interested, there is a Free Tour link to give you another taste. There aren't any more videos to sample for free, but the page does seem like a nearly endless scroll of thumbnails, screengrabs, and video synopses. The photos of these innocent-looking babes with their clothes off, coupled with pictures of their unmolested hymens, have me very eager to get in and see what the member's area holds in store.