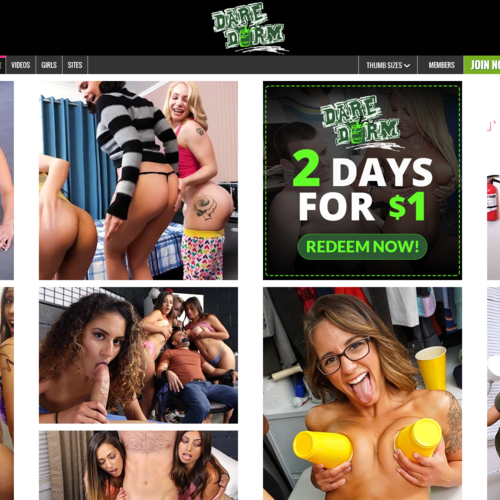 Dare Dorm
For many, college is the first experience of unbridled freedom. You're freshly 18, with no parents to check in on you, no curfews, no limitations, no real rules to speak of. Outside of keeping your GPA at a passable level, all you really have to do is have a good time; get fucked up, try new things, embrace your inner hedonist and fuck as much as physically possible. In the sudden absence of routine and regulation, college girls are notorious for going all out, wild with pleasure and hungry for cock.
Don't get me wrong, I definitely fucked in college. But I was relatively reserved back then. I hadn't yet grown into the pussy pounding pimp who is writing this today. Sometimes I wish I could go back in time and tell 18-year-old me to pull himself up by the nut sack and get out there, fuck more of the horny and willing sluts who paraded around campus in tiny miniskirts and heels, tits hanging out all over the place, while they precariously tried to navigate the snow-packed sidewalks, getting more and more wasted with each bar visited.
I only wish I had heard of Dare Dorm back then; the porn site that could have given me the night of my life. Although the site has undergone a few major changes since its inception, the original idea was this: college students from all over the country would submit homemade videos of booze-fueled parties that turned into crazy hot orgies.