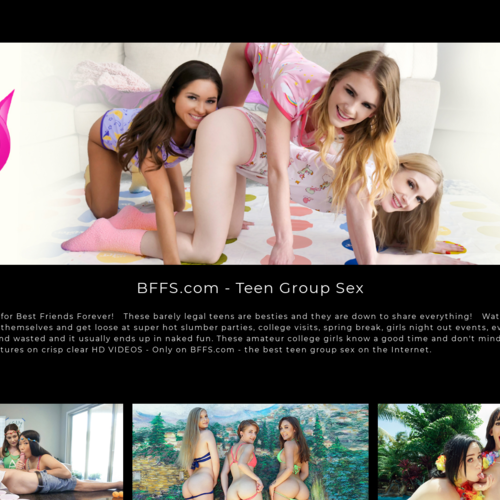 BFFS
BFFs is more than just a group sex site, though. There's a certain aesthetic to it that will especially appeal to guys who have a thing for teen porn. I mean, just look at the name: BFFs. Best Friends Forever, a title used almost exclusively by teen girls. So, there's definitely an implied innocence to this site. This will also affect the situations you'll find on BFFs, many of which are themed around slumber parties, yoga class, ballerinas, cheerleaders, sports teams, etc. … any sexy situation you can think of where teen besties would naturally be together, ready to take your dick over.
The site itself, as a part of the Team Skeet network is, as you would imagine, pretty top-notch. I am a fan of the really simple and easy to navigate site design. As soon as you enter the members' area, all you'll see is a giant banner at the top of the page (featuring three beautiful naked girls hugging on each other in a swimming pool) and a gallery of thumbnails below.
You can sort the videos based by Newest, Number of Likes, Number of Comments, % of Likes, Number of Views, or Oldest to Newest. And you can filter them down further by time (choose All Time or only show videos from today, yesterday, the last week, month, two months, or six months). You can also peruse the site based on models (girls or guys). But, outside of that, the site is pretty much what it is; what you see is what you get. Which I think is great. I always prefer sites that are straight forward, simple, and easy to use.
The site also offers a few customizable and community features for you to enjoy. For one, you can choose how videos are to load as you scroll down the page. The default is for thumbnails to Autoload, meaning as you scroll, new thumbnails will load to keep up with you. But some people aren't a fan of this and want to be able to choose when they see a new list of videos and BFFs is aware of this. Which is why they allow you to toggle that option off, resulting in a Load More Videos button that will appear once you reach the end of a page of videos.